Peritus Health Management
Website Redesign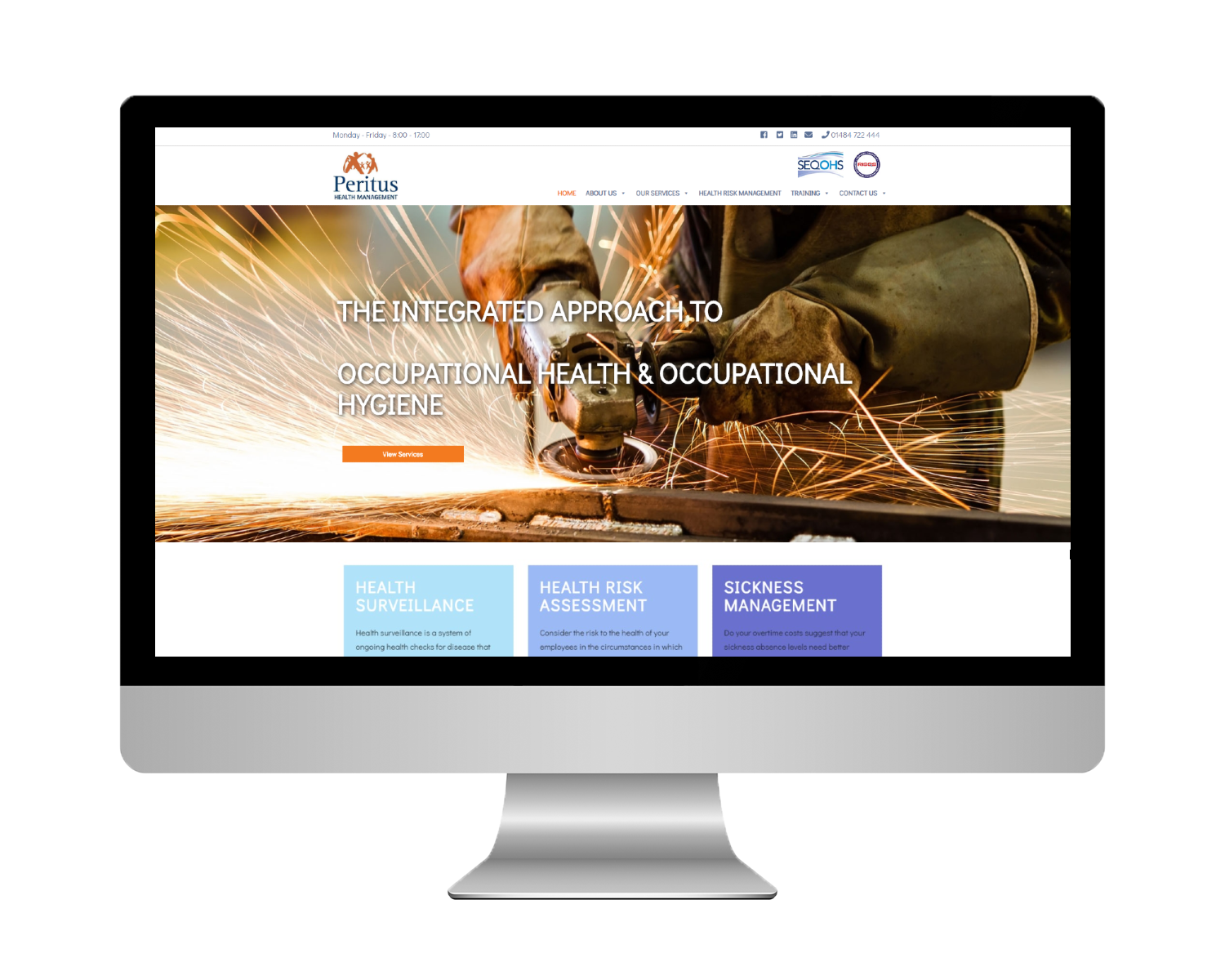 About the Client:
Peritus Health Management is an experienced provider of integrated occupational health and occupational hygiene services to businesses of all sizes. They make sure their clients look after their staff members' wellbeing, health and safety and remain compliant with the latest legislation and best practices.
Peritus Health Management's services include Health Surveillance, providing training and carrying out professional fitness for work checks and comprehensive on-site occupational health assessments. The company work to help clients identify and manage health risks, reduce sickness absence and assist staff in returning to work following health or wellbeing issues.
Project:
As part of the WordPress website redesign, we created a bright and bold colourful icon set (pictured below) that reflected the business' specialism and sourced high-quality images for the homepage sliders that would make a positive impression when website visitors first landed on the site.
The website is very content-driven with a multitude of pages containing complex information about health and safety and occupational health laws and policies. Due to the nature of the Peritus Health Management business, Pivotal Web Solutions had to project manage the upload of content very carefully, ensuring the highest levels of accuracy.
We also helped to facilitate the seamless integration of Peritus Health Management's Really Simple Systems CRM (Customer Relationship Management) system with the website. This meant that when a website visitor completed an online form on the new website, all the relevant information would be automatically populated within the correct fields and sections of Peritus Health Management's CRM, saving the business time and resources.
To give website visitors added confidence that the Peritus Health Management is safe to browse, we added an industry-standard SSL (Secure Sockets Layer) certificate to the site, which provides the reassuring padlock symbol next to the website's URL web address.
Extras:
One of the biggest benefits of the WordPress platform is that Admin users can quickly and easily upload and amend their own content without much technical knowledge. We provided practical 1-to-1 WordPress Training Sessions to Peritus Health Management's Business Development Manager, Sharyn Williamson and to the business' student intern, Joe.
Peritus Health Management often exhibits at business events, such as Health and Safety North, which they were keen to promote and create engagement around on social media. Our Social Media Manager was happy to help by providing a hands-on 1-to-1 Social Media training worksop to Peritus Health Management's Occupational Hygienist, Isaac Dowson.
Testimonial:
"We are very happy with the design of our website, and we are finding it extremely easy to use, with Pivotal always providing very quick and effective support whenever we have required it."
– Joe Rooney, Peritus Health Management.
Get Your WordPress Website
Call us on 01484 290 100 to discuss a new WordPress website for your business.
---
Written on
October 11, 2019