As business owners we all want our customers to feel reassured, comfortable and secure, don't we? This is especially the case when it comes to their data and security. If clients didn't feel safe and protected they wouldn't continue to use your service.
But how can you make your clients feel happy and secure when they visit you online?
An SSL Certificate that's how! Standing for Secure Socket Layer, this security technology is rapidly becoming the industry standard- trusted and expected. It involves encrypting data sent between a web server (i.e. your website) and a visitor's (for example, your customer's) web browser. A valid SSL certificate ensures the session between your company's website and visiting browsers is secure and private.
Chances are you have been on websites that have an SSL certificate installed on their servers but you'd be forgiven for not noticing them as you may not even know what you're looking for!
When a valid SSL certificate is successfully installed you'll notice that the 'HTTP' part of the URL in your browser search bar will change to 'HTTPs' with this little 's' standing for 'secure.' The SSL certificate may represent itself as a small padlock symbol or a manifest itself as a green bar when you browse a website that has a verified SSL certificate installed. What the SSL looks like does depends on what web browser you're browsing the net on and which type of certificate was purchased.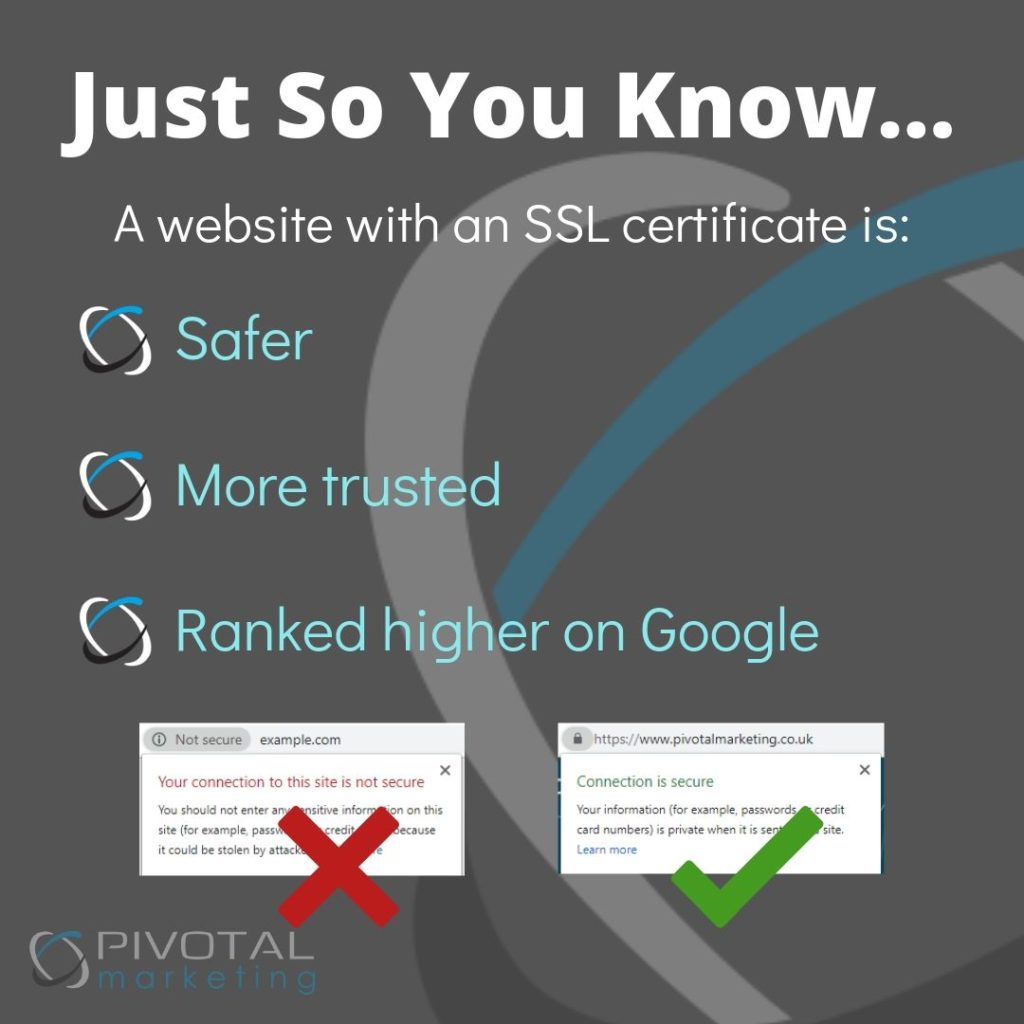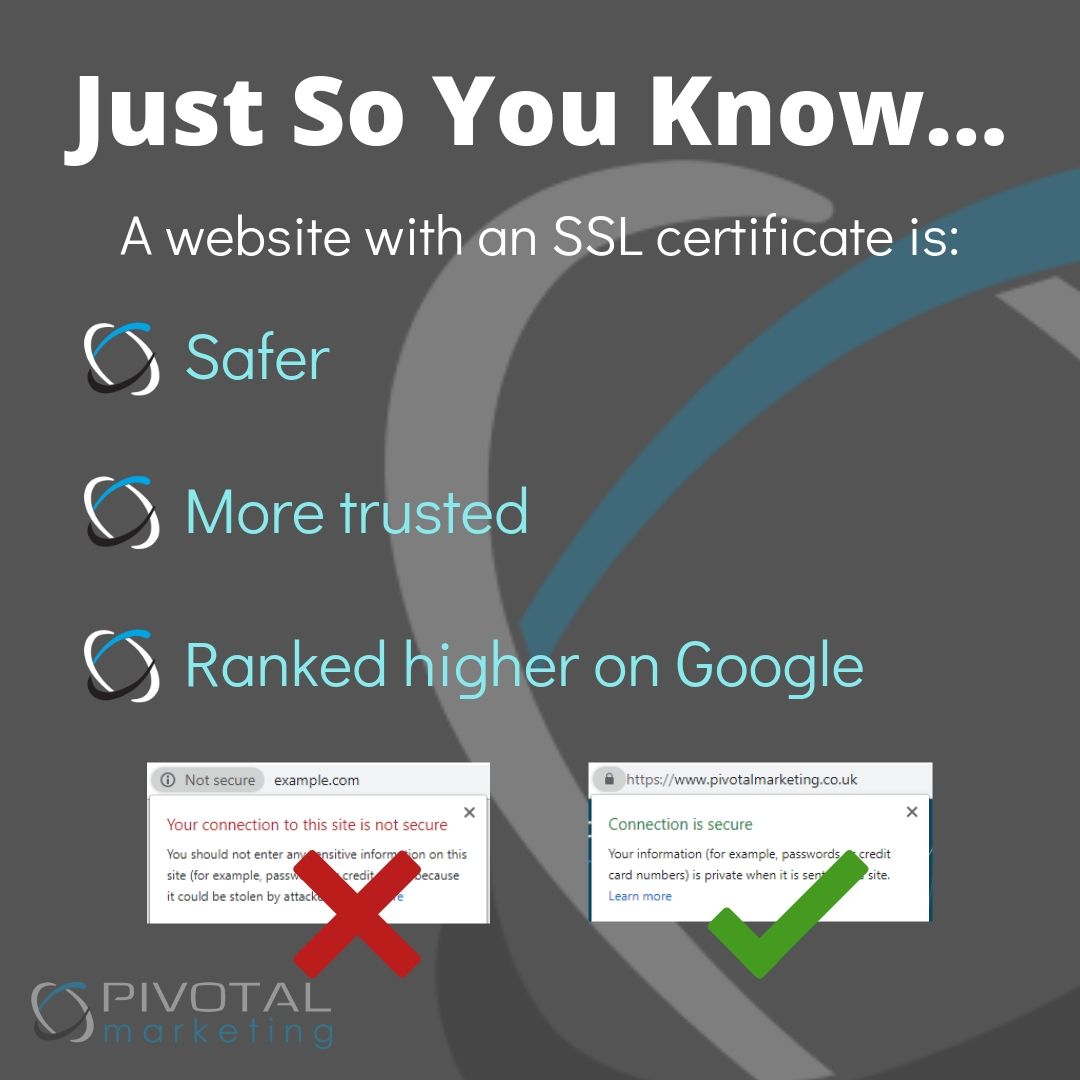 SSL Certificates have to be issued by a trusted Certificate Authority and unfortunately paid for.
Why are SSL certificates such a worthwhile investment?
If your company operates online via an e-commerce website like many of our clients at Pivotal Web Solutions there are several reasons to take the plunge and invest in a SSL certificate for your business, including:
Protecting your clients' details and website's data with solid industry-standard 256-bit encryption so data- including payment details- is remains secure between servers and web browsers.
A secure website has to be a huge bonus, so it's no surprise that Google has announced that having an SSL certificate influences how high your website ranks in search engine rankings and who doesn't want to be top dog on Google?!
Every business owner craves those coveted high conversion rates. It's been proven that SSL certificates have enhanced and boosted conversion rates by making sure sites are safe online places to buy from.
Gives your customers that peace of mind and confidence knowing they are on a safe website they can trust, so they can browse your website carefree. Happy customers are more likely to buy!
Another benefit is being able to prevent being hacked and your website being used or mistaken as fake as part of a phishing con. Phishing scams often entail sending unsuspecting people emails linking to bogus versions of legitimate websites. An SSL shows your business website is reliable and genuine.
Many SSL certificates come with warranty protection so your clients are insured against loss suffered from transactions carried out online.
It's understandable if you're a little sceptical and think SSL Certificates are just another ploy for digital marketing agencies and web developers to get more money out of you, but they really are becoming more and more common in the e-commerce world. Ranking and conversion rate boosting, they are surprisingly cheap and quick to install.
For a helping hand in choosing the right SSL Certificate Authority to buy from for you and support in implementing your company's website SSL certificate drop us a line on: [email protected] or gives us a ring on 01484 290100.