You've invested in an interactive, speedy, and sleek new website for your business.
You've dedicated time to producing informative blog posts, case studies that illustrate how your business can help people, compelling videos, and uploading honest testimonials to your site.
Now you're probably wondering how to increase visitors to your website!
Well, the answer lies in both on and offline solutions.
How to Increase Visitors to Your Website: Offline
1) Business Cards
At the time of writing, the UK is out of lockdown restrictions. This means we're seeing our clients returning to in-person events. Our clients Avonside Group recently exhibited at CIH Housing 2021, whilst our accounting clients Sleigh & Story are set to have a stand at the West Yorkshire Expo live event. It's great to see everyone interacting again but what do you need for expos and in-person meetings? Business cards!
As Banana Print notes: "Your business card is just a tiny taste of information about your company. What should someone do if they want to learn more? Visit your website, of course! If you print your website address at the bottom of your card, people will be more likely to visit the site and learn more about your business. You absolutely cannot forget this little detail!"
Make sure you only include the name of your website's homepage URL, for example, pivotalmarketing.com so it's easily scannable and simple to navigate to online.
Our Graphic Design service means we can help supply you with professional business cards featuring all the key information!
2) Email Signatures
Centralised email signature management solution provider, Exclaimer lists your website URL among the essential contact details to include in your email signature.
With roughly 306.4 billion emails estimated to have been sent and received each day in 2020, it would be a missed opportunity for you to ignore Exclaimer's advice!
Use our graphic design skills to design email signatures that make you and your team stand out!
3) Signage and Livery
Own a bricks-and-mortar store?
Perhaps you're a tradesperson or small business that nips around your local area in a company van?
This is Money reported that research by Webuyanycar found that the typical UK driver spent an average of 4 years behind the wheel in their lifetime! Although the report is from 2019, before the advent of working from home, that's plenty of opportunities for drivers to catch your business info as they drive past your shop window or sit behind your van in traffic! And that's not to mention pedestrians!
Diggles Creative recognises that a business' website address is "critical information" that needs to be visible from the sides AND rear of your company vehicle.
Let us create signage and livery for your business, so it matches your online branding for consistency!
4) Print adverts
Despite the online nature of today's world, we have facilitated the design of adverts in local publications like The Grapevine Magazine before. Print advertising can still be useful for smaller businesses that cater to their local area.
Print adverts can be a great way of targeting older people if they are your target market. Typically the older generations spend less time online than their younger counterparts, though AgeUK admits internet use among older age groups is increasing substantially. Put your website address on print ads so people can find out more information.
The downside we find with print advertising is that you can't be certain how many people will see your advert. You can't be sure who will see it either. Think of newspapers. The age range of their readers can be wide. It's harder to measure results than with online advertising. Often publications can only provide you with their rough readership/circulation figures. You, therefore, need to include your website address in case younger people, who tend to use the internet more, see your ad and want to find out more.
5) Press Releases
You would be forgiven for thinking that magazines were declining with us all spending so much time online. In reality, Wessenden Marketing, the UK insights consultancy, released an overview of the UK magazine market called 'Good News & Bad News in 2020's Magazine Launches'. They discovered that while the number of magazine launches decreased: "print still has a future, it's more as a low-volume, low-frequency, high-premium product that occupies tight, vertical niches."
Be strategic about targeting the right publications that cover a niche your business operates in or caters to the specific audience you aim your business at. That wat your press release is likely to get useful coverage.
Things you might write a press release about could be a new product or service your business has released or an issue your business has helped solve. Local newspapers appreciate stories about how your business has helped the local community, charities, or won awards as it shows the generosity and success of the 'patch' they cover.
Many newspapers and magazines are now online too. Including your website address at the bottom of your press release, helps the journalist find out more. It also increases your chances of a backlink from the newspaper or magazine's website to yours. A nice segway into the second half of this blog post…!
How to Increase Visitors to Your Website: Online
We always say "if you can't measure it, you can't manage it!" Online advertising and email marketing have reporting and analytics functions that allow you to see specific data about who showed an interest in your marketing efforts. They also offer specific targeting options.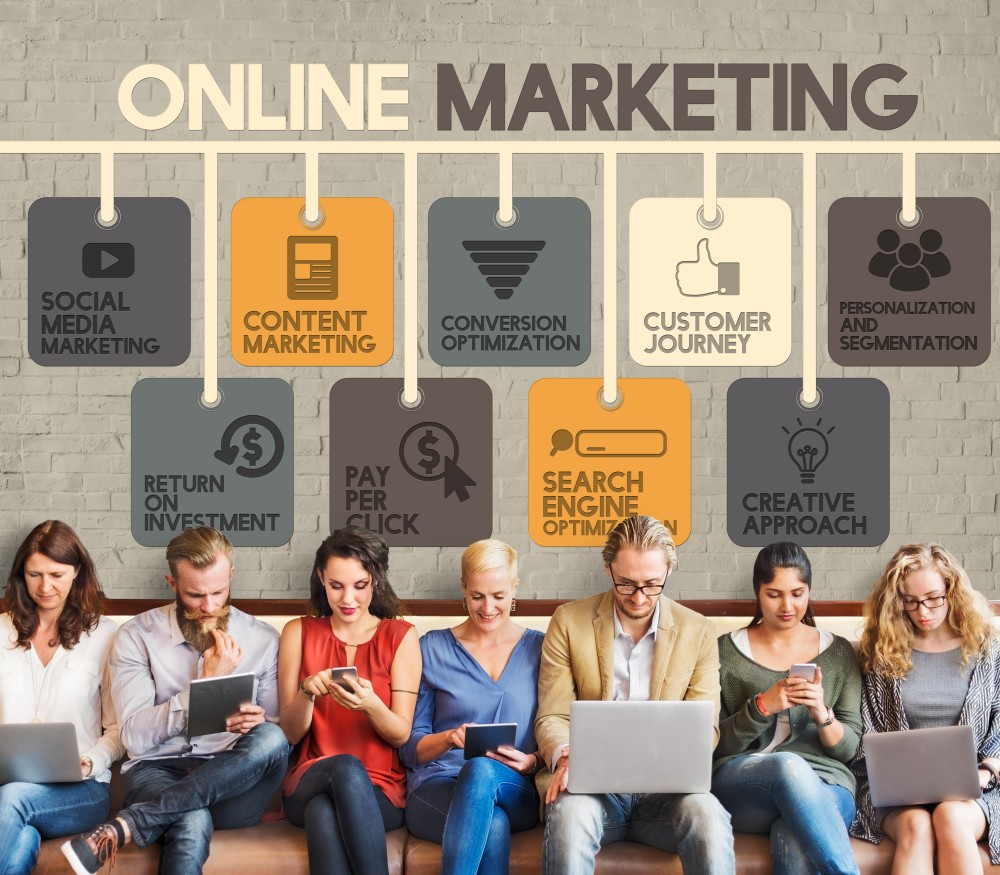 1) Social Media Marketing
66% (45 million) of the UK population uses social media platforms in 2021. There's TikTok, Snapchat, and Instagram if your business caters to the younger generation. Facebook remains a firm favourite for older generations.
If your business isn't on social media, you're seriously missing out!
Adding your website address to your 'About' section on LinkedIn, Facebook or your Twitter and Instagram bio helps reinforce the fact that you're a credible business. Engaging posts that link to your business can encourage people to your website. Share links to your blog posts, case studies, service and product pages, and testimonials on your social media, and watch your visitor numbers soar!
Paid Social Media Advertising can raise your profile online even quicker to your desired audience.
Remember you don't have to be on every social media platform!
Take advantage of our Social Media Marketing service to help get your business' name out there where your audience hangs out the most!
2) Email Marketing
Did you read the bit above about an estimated 306.4 billion emails being sent and received in 2021? Dandelion Marketing points to the fact that everyone uses email. It's an affordable way of marketing. What's more, when done right it can be highly effective. Share practical, helpful, and personalised content and people won't dismiss it as spam.
Regular email newsletters can be a successful way of rounding up your latest blog posts, case studies, and testimonials as well as providing top tips and sharing industry news. You can track open rates, bounces, forwards, clicks, and more.
We can help you create emails that get opened and clicked on!
3) Online Advertising
While organic SEO is a long game worth investing in, a quicker strategy is to pay search engines like Google to serve your ads above position zero in search results. Smart keyword and geographical targeting help you control when and where your ads are shown and to whom. That includes people who are unaware of your business (unlike organic Social Media and Email Marketing). You remain in control of your spend too, able to turn the ads off at any time.
Benefit from our Pay-per-Click Advertising service to help boost your online presence and drive traffic to your landing pages.
4) Guest Blogging and Backlinking
Let's be honest, overtly selling is a little bit 'dead' in 2021. People a hungry for knowledge and you will have plenty of knowledge to share about your industry! Reach out to prominent bloggers in your field and ask to write a guest blog post for their website sharing your insights or to be quoted in their blog post. The result? Useful links back to your website! Use SparkToro to discover what your audience is reading, watching, listening to, and following so you know which websites to target!
Enjoy authoritative blog posts produced on your behalf and sent out as guest blog posts with our Content Marketing service,
5) Podcasts and Video Collaborations
Research by Yonder, conducted for Ofcom involved interviewing 1,885 people. They found that 50% of them had listened to a podcast before and 25% were regular listeners of one. YouTube is used by more than 35.6 million adults in the UK. If these stats are anything to go by, people crave multimedia content in 2021!
Similar to Guest Blogging, appearing on podcasts or getting interviewed on the videos of YouTubers who are prolific in your profession can help raise your profile. Often, the podcast is embedded on a website with a brief text description, including the name and website of the participants underneath. YouTube video descriptions also tend to feature the information of those in the video.