Which social media platform is the best? Which is the most used social media platform?
Social media has been around for a while now. Some platforms have risen in popularity, while others have fallen. Meanwhile, we have welcomed the new kid on the block, TikTok.
You know your business needs to be on social media in some form but with so many different platforms to choose from, which one do you go for? Without knowing the answers to the above questions, many businesses end up trying to create a successful presence on all platforms and inevitably end up spreading themselves too thin.
Which Social Media Platform is the Best?
The truth is the social media platform that is the right "fit" for your business will largely depend on the nature of your business and who your audience is.
Some Good Rules of Thumb Are:
Pinterest and Instagram are ideal for businesses with a visual angle, so creative businesses, photographers, businesses with products to showcase.
Fashion, food, travel and lifestyle brands typically do well on Instagram.
Facebook is a brilliant place to be if you are a small B2C business (one that sells directly to customers). Sometimes having a Facebook page can be a more cost-effective marketing method than having a website.
If you are a B2B business (one that sells to other businesses) having an active LinkedIn Company Page and having your employees acting as ambassadors for your brand using their own LinkedIn profiles is a MUST.
If your target audience is teenagers and young adults, you might want to embrace Snapchat, Instagram and TikTok, which tend to be popular among these age groups.
If you are producing regular video content, even once a week, uploading them to YouTube increases their SEO value as Google own YouTube, so favour you using their product. YouTube also makes it super easy to embed videos onto your website.
Which Social Media Drives More Traffic to Your Website?
Although one of the main reasons to be on social media is to engage with your customers and clients in real-time and to educate your audience about what you do, its purpose is also to drive traffic to your website. Google Analytics is a free tool that can tell you which social media platform drives the most visitors to your website.
So, one tactic would be to choose 2 or 3 social media platforms based on the rules of thumb outlined above and get active on those platforms. The best marketing is about learning from trial and error after all. Once 3-6 months have gone by log on to Google Analytics. The handy video below takes you through the steps of setting up Google Analytics and installing it on your website to track website visitor numbers and behaviour.
Looks a bit complicated? Don't worry if you need a hand, we set up Google Analytics for all our new website customers and use Google Analytics to produce easy-to-follow monthly reports for our digital marketing and SEO customers.
Add the segment you are interested in (if you're looking for customers based all over the world click "All Users". If you are more interested in clients based in the UK create a segment to just show these visitors).

Using the options on the left-hand side navigate to "Acquisition" > "Overview". This will bring up a list of different sources and how many visitors to your website originated from each source.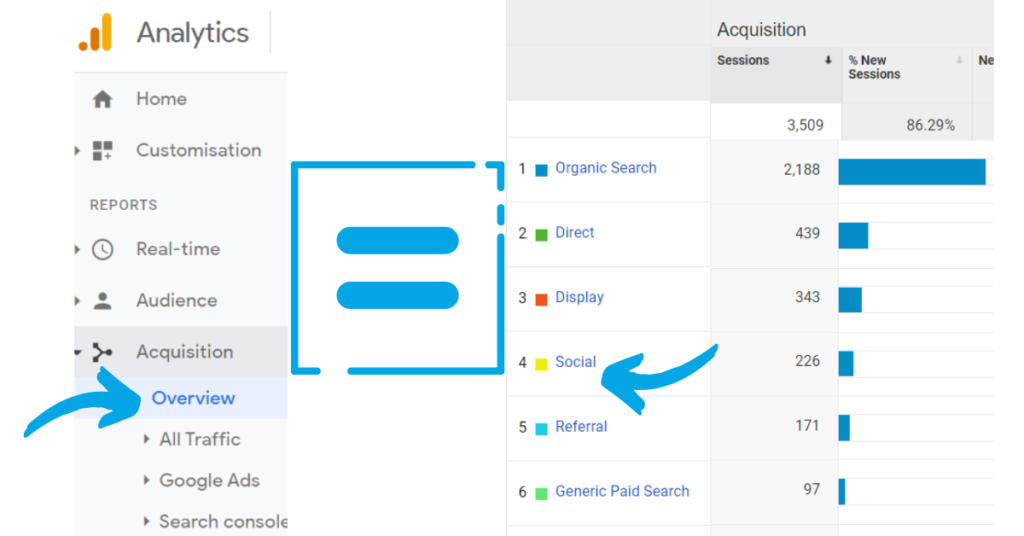 Click on "Social" and this will show which social media platforms sent the most visitors to your website. Using the date range in the top-right hand corner you can use the calendar to see which social media platform has been the biggest driver of visitors to your website in any given period. Once you know this, you'll know which social media platform to focus your efforts on!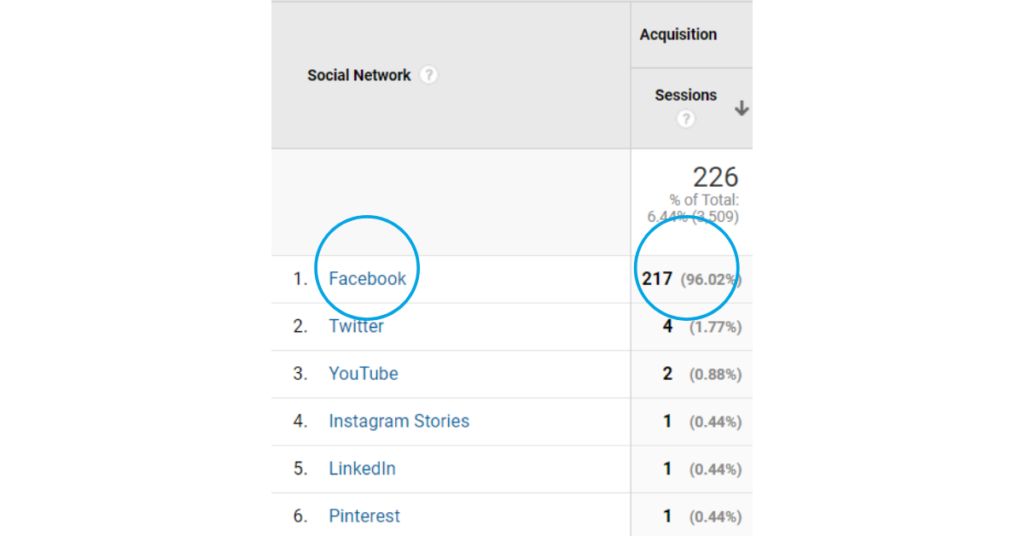 Which Social Media Platforms Generates the Most Engagement For Your Brand?
After being on social media for a few months, you'll be able to use the in-built analytics feature on each social media platform to see which platform you have the largest Following on. You'll also be able to tell which platform your audience is most active on. Which social channel gets the most comments? Which platform sees people share your content the most? You'll have the answers!
Aside from driving traffic to your website, social media is about having conversations with your customers, developing trust with your audience and building a community around your brand. Whichever social media platform achieves these goals for your business is the one you need to concentrate on.
Which is the Most Used Social Media Platform?
It goes without saying that your business needs to be active on the platform where your target audience hangs out online.
Hootsuite recently published the figures for the most popular social media platforms. They are as follows:
Facebook – 2.44 billion monthly active users
YouTube – 2 billion monthly active users
Instagram – 1 billion monthly active users
TikTok – 500 million active monthly users
Twitter – 330 million monthly active users
LinkedIn – 303 million monthly active users
Pinterest – 300 million people use Pinterest every month
Snapchat – 210 million daily users (Snapchat doesn't publish Monthly Average Users).

Hootsuite goes a step further and explores the demographics of the people that hang out on each social media platform. For example, more U.S. women (75%) say they use Facebook compared to 63% of men. YouTube is more popular with teenage boys – 85% of boys aged 13-17 watch YouTube every day. In contrast, only 70% of girls from the same age group do. It is claimed that Pinterest reaches a staggering 83% of women in the U.S. aged 25-34 but 50% of Pinterest new sign-ups are men, meaning if your target audience is men, Pinterest could be one to watch.
Check out Hootsuite's Brilliant Social Media Demographics 2020 article here.
Understanding Your Audience
If you know not just where your audience hangs out online but what they like to watch, listen to and read and what topics they talk about, you'll know what content to publish once you have established which social media platform you should be on.
A tool to help you do this is SparkToro. SparkToro crawls billions of websites and social media accounts, aggregates those into different profiles and enables you to easily search that data. So, if you're a vegan restaurant you might use SparkToro's "My Audience: Frequently talks about" feature and type in "animal rights".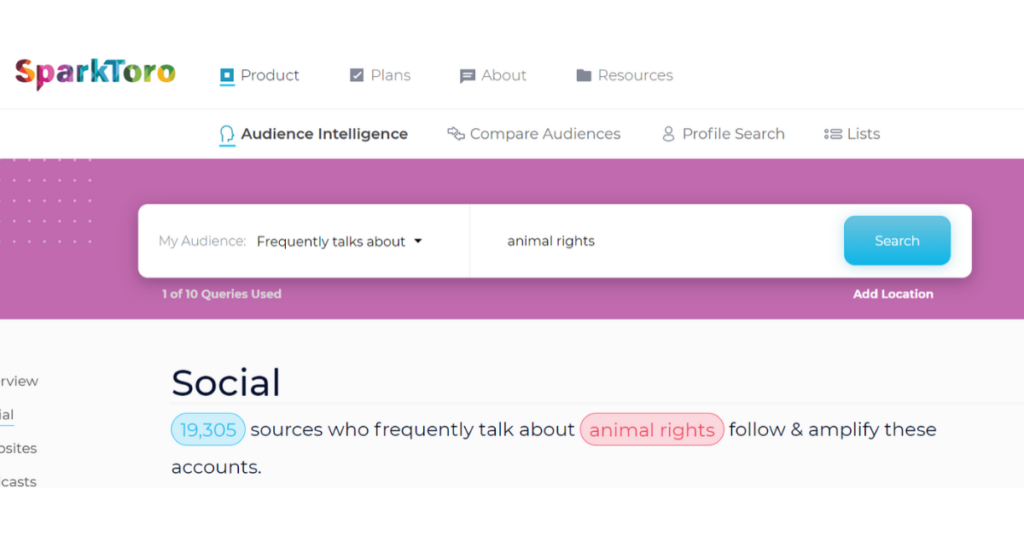 SparkToro will reveal a wealth of data. Among the data revealed, you'll be able to discover which brands the people who frequently talk about animal rights follow. You can then tailor your own social media content to emulate the topics these brands cover (mixed in with your own original content of course!)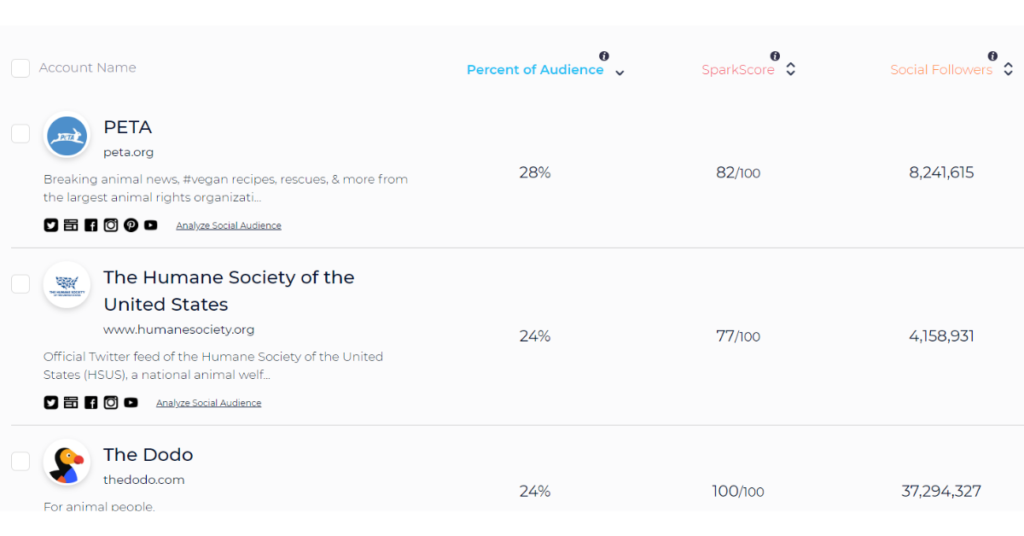 SparkToro comes with a limited free version you can try. Alternatively, Brian Dean from Backlinko gives a very honest review of SparkToro, including pros, cons and if it is cost-effective.
For Digital Marketing help with your business, contact us today.