Your car goes to the garage every year for a legal check-up. Even people are encouraged to go for a regular medical check-up when we get to a certain age! Regularly checking something important helps maintain it in a top-notch condition all year round, and your website's certainly important.
Just as all the shops will be urging you to get your kids 'Back to School' ready before they've even enjoyed the first week of the summer holidays, you may be preparing your business for a big business event in the autumn or product sale at Christmas. So why not get ahead of the game and treat your business to a website health check?
What to Look Out for in Your Website Health Check
1) Is your website mobile-friendly?
In 2018 over 50% of the global website traffic was served on mobile phones and the trend is only going to keep increasing!
What's more, Google now favours websites that are mobile-friendly, in fact, it's one of 200 ranking factors (see number 39 & 40) listed by Backlinko that all work together to influence if your website is likely to be ranked highly in search engine results.
If you need more convincing, Google, who only use one index, now uses mobile-first indexing. This means the search engine now mainly uses the mobile version of the content on your website (if you have a mobile version) for indexing and ranking. Previously, Google's index primarily used the desktop version of a page's content when evaluating the relevance of a page to a user's query. As of July 1st, 2019, mobile-first indexing is the default for all websites that are new to the web or previously unknown to Google Search.
To make sure your website is mobile-friendly, responsive to different screen sizes and without clickable elements positioned too close together, use this handy Google test.
---
2) Does your website have an SSL certificate?
An SSL certificate, or Secure Sockets Layer certificate, is now also a ranking factor for Google, as part of their bid to make the internet safer for everyone. An SSL certificate provides the padlock symbol in your website browser search bar next to your website address/URL, rather than a 'not secure' label.
But a successful website isn't just about optimising it for a higher website ranking. An SSL certificate provides reassurance to your website visitors that your site is safe to browse, which is particularly key for User Experience (UX) if it's an ecommerce website where you sell products online.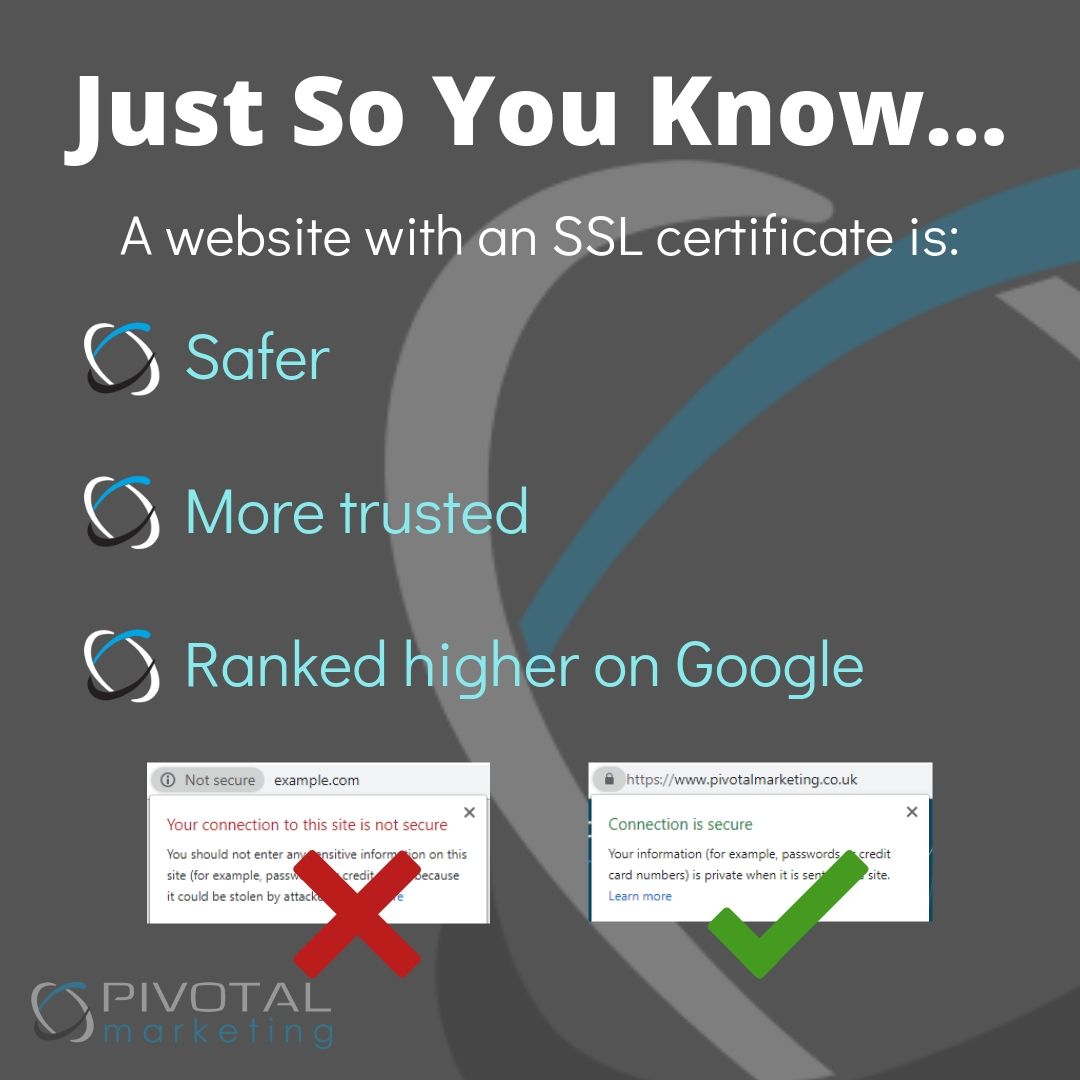 So, getting an SSL certificate for your website and moving to HTTPS (which stands for Hypertext Transfer Protocol Secure, an extension fo the Hypertext Transfer Protocol (HTTP)), shows your website is safe to use and increases the confidence of your website visitors.
Pivotal can seamlessly install an SSL certificate on your website for you so you don't have to worry.
---
3) Is your website fast enough?
It's not just Google that uses speed as a ranking signal, Bing does too. So how fast your website responds to website requests influences your website's ranking in search results.
How fast should your website be? Dotcom-Tools state that: "the majority (53%) of mobile internet users abandon a website if it takes longer than 3 seconds to fully render."
When it comes to website load time on desktop, Dotcom-Tools maintains that the ideal website load time is 2 to 5 seconds, but each second beyond 2 seconds leads to a higher bounce rate. Bounce rate is the percentage of website visitors that leave your website after only visiting one page. A study by SEMrush revealed that pages with a high Bounce Rate often rank lower, as they probably aren't a helpful result for the keyword you have targeted and optimised for. Therefore, the 2018 Website Load Time Benchmark was set at a maximum of 1.3 seconds.
To quickly see how speedy your website is, pop your web address into Pingdom's free Site Speed Test Tools.
---
4) Is your website visible in search results for your target keywords?
A brilliant website is no good if no one can find it! Sometimes your competitors are not who they think they are. The businesses you should really be keeping an eye on are those that are ranking above you in search results when you search for the keywords you wish to be found for.
Websites that drop to page 2 of search results on Google only receive 5% of search traffic so page 1 is the place to be!
Go on, as part of your website health check have a go at Googling the main service you offer or product you sell and the geographical area you cater to. Where does your website appear in the results? If your website ranks lower than you'd like, perhaps our SEO services can help!
---
5) Does your website have a blog/case study section?
A blog is a brilliant way to showcase your business' knowledge in your field of expertise, building trust with website visitors. It also gives loyal readers a reason to keep returning to your website. Good quality blog posts and case studies, especially those that include videos and podcasts, capture visitors' attention for longer and encourages them to visit more pages on your website (keeping that bounce rate low!).
Way back in 2010 Google's 'Caffeine Update' ensured that Google provided users with fresher content a lot sooner after it had been published. In short, Google loves websites that are regularly updated and a blog or regularly updated case study/profile section is a brilliant way to keep your website fresh.
Backlinko notes: "How often has the page been updated over time? Daily, weekly, every 5 years? Frequency of page updates also play a role in freshness."
Don't have time to create blog posts but would like to? Pivotal has experience in creating relevant, SEO friendly, well-researched blog posts for all industries!
---
6) Does your website have social media icons and social sharing buttons?
While social media is an effective way to drive potential customers to your website by including links in social posts, it is also a great way to engage with customers/prospectives in real-time and create brand awareness. So it's a good idea to have linked social media icons in your website header and/or footer (so they appear at the top and/or bottom of every webpage on your site), enabling people to easily contact you.
We'd also recommend including social sharing buttons on your blog posts to make it quick and simple for readers to share your blog posts. This makes amplifying your content's reach easier. As SEO expert, Neil Patel says: "Social shares are one of the most important factors when it comes to driving traffic with your blog posts." He shares the different ways you can incorporate attractive social media sharing options into your blog.
Do you find it tricky to keep up with your brand's social media but know it's important? Maybe our Social Media Marketing services can help?
---
7) Do your website contact forms work?
Don't make the mistake of assuming your website contact forms are working smoothly. After all, if they didn't work your website would be pretty useless wouldn't it? The purpose of most websites is to act as the "digital shop window" for most businesses and to prompt visitors to contact the company.
As part of your website health check, fill out a contact form on your website and see if you receive a copy of the test enquiry via email. You didn't? Give us a call! We test clients' forms each month and fix them whenever they need it.
😎 Let Us Get Things Done While You Enjoy the Sun 😎
We know the last thing you probably want to do when the sun is shining outside is to sit in front of a computer, but you know your website is key to your business success. So, let us help.
Contact us today to get your website ready to convert visitors into customers!