Ultra Accountancy
WordPress Website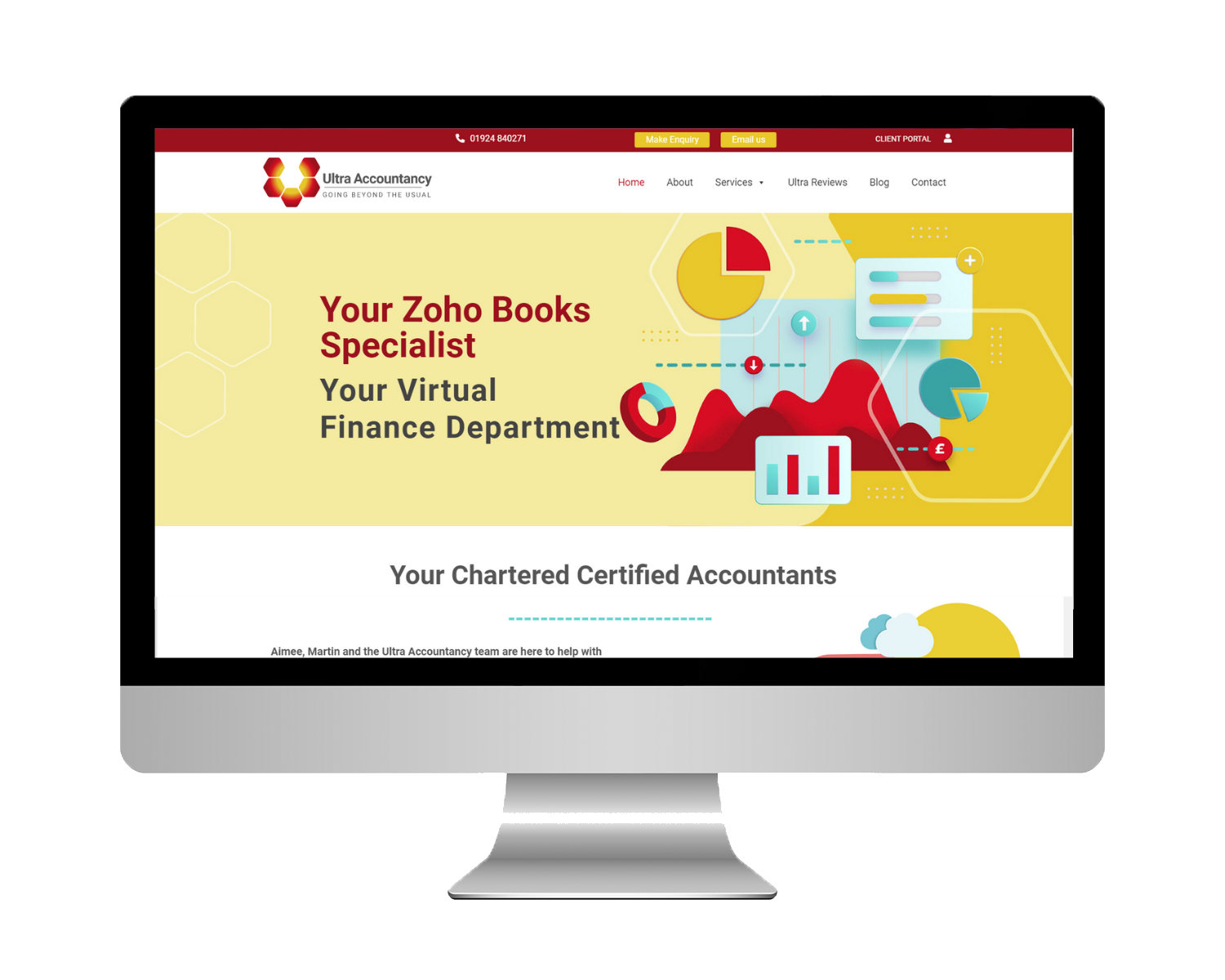 About the Client:
Ultra Accountancy are not your average accountants. Based in West Yorkshire they strip out the jargon and amp up the smiles, offering trusted accountancy that is friendly yet professional. Accounts Manager Aimee Hargreaves was the first Zoho Books Advisor in West Yorkshire, whilst Ultra Accountancy enjoys working with small businesses, start-ups and those in a variety of sectors including manufacturing, communications, and financial services.
We previously designed and developed Ultra Accountancy's website in 2019 following the brief below:
Brief:
A manageable WordPress website that can be easily updated with the latest finance and accountancy news and testimonials.
A bright and vibrant design that conveyed the friendly and approachable nature of Ultra Accountancy's brand.
An intuitive menu that made navigating the various sectors that Ultra Accountancy service and the different services that the firm offers an easy experience for website visitors.
The ability for customers to easily inquire about accountancy services online.
What We Did:
We created a warm and welcoming website that captured the customer care aspect and 'going the extra mile' ethos of the Ultra Accountancy brand.
We created an interactive, easy-to-use online form to streamline the enquiry process for prospective customers.
2021 Website Refresh
As a business evolves, the website representing it online should be dynamic enough to adapt to reflect that change. We revamped the design of Ultra Accountancy's website to make it:
more professional and smarter looking,
easier to use and
provide a better User Experience (UX).
We also made improvements, such as amending their TypeForm contact form.
Extras / Ongoing Services:
Testimonial:
"Myself and my co-director Aimee at Ultra Accountancy recently engaged Pivotal Marketing to redesign our website to achieve a more professional look and better useability. We are really pleased with the final result!

The team at Pivotal really got to understand our business and what we are about, whilst they listened to our requirements they also made some great suggestions to further improve the site.

They have also provided a blogging workshop so we are now able to keep our clients up to date with useful tips and information and will we be using them further in this area in future.

We wouldn't hesitate to recommend the team at Pivotal Marketing Ltd!"

– Ultra Accountancy Co-Director, Martin Hargreaves
Get Your Specialist WordPress Website
Call us on 01484 290 100 or contact us to discuss a new WordPress Website for your business.
---
Written on
February 2, 2022