Andante Freight
Website Redesign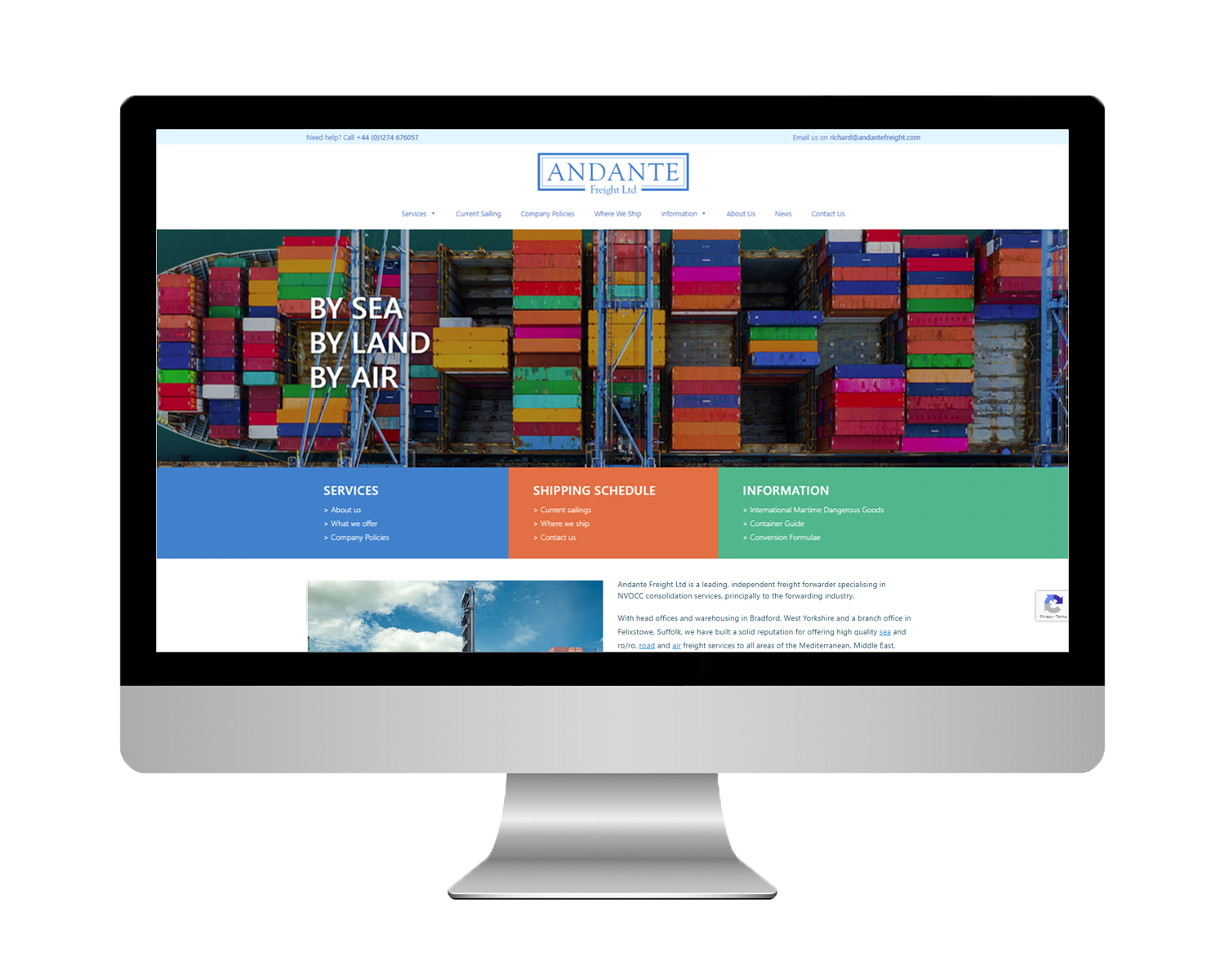 About the Client
Andante Freight are a large and successful freight forwarder based in the GOLF terminal, Bradford. Their long-standing legacy and experience have resulted in them being one of the leading consolidators of groupage cargo to the main Mediterranean ports. Andante Freight's goal is always to deliver excellence in any service they offer, whether that be their sea, road or air freight services.
Why Andante Freight Needed a New Website
Already the owners of an existing website that had served them for many years, Andante Freight recognised that they needed to modernise their online exposure.
Designed in the past when most people used square monitors to search the internet, this old design now aligned to the left, leaving a large border to the right. The website was not friendly to mobile visitors, who had to pinch their screen to even read the text. Worse still, this can have a Google penalty, reducing ranking capability.
Also, their company logo was pixelated on newer screens and did not represent the proud, professional and efficient company that they are.
How We Were Able to Add Value
Through great design, we were able to keep the heritage of the older logo style in a modern and attractive website layout that was designed to be easy to use and navigate on all device types including mobile, tablet, laptop and widescreen desktop monitors.
With a clearer layout of the available services and schedules that Andante offer, the visitor is guided more clearly to the information they need.
We also carried out SEO keyword research to identify which freight forwarding industry-related terms and relevant keywords people search for the most online. We then incorporated these words into the webpage titles, meta descriptions, image alt tags and page content as we delivered our copywriting services. This ensured the pages were fully optimised for the relevant keywords and increased the chances of Andante Freight getting found online for the right search terms.
What Technical Requirements Were Needed?
To showcase the vast area that Andante can ship freight to, a detailed and interactive map was added to allow visitors to click on the pin points around the world or search for their nearest port by entering a country name or address and choosing from a 1 mile to a 1500 mile radius. Whichever way a visitor chooses to find a port, they are presented with the flag of the country, the city and country name, a contact name and a contact email. The map also shows the 2 UK home locations for Andante Freight and provides the address and contact information for both the locations.
Extras:
Image Slider
Interactive Map
iThemes Security WordPress plug-in
Hosting on our own fast, secure web server, which is backed up nightly.
Testimonial
"We found Pivotal to be extremely helpful and professional – Being complete novice's – Pivotal guided us through the process – answering all our questions and concerns – helping us with page content and layout. We found the handover training helpful. Since going live – Pivotal have helped us with a few minor issues on posting blogs and news. Andante Freight would recommend Pivotal."

– Victoria Steel, Andante Freight Limited
Get Your Specialist WordPress Website
Call us on 01484 290 100 or contact us to discuss a new WordPress Website for your business.
---
Written on
October 5, 2021