You've recently invested in a new website for your business. Perhaps it's an upgrade or you've migrated from a different platform to WordPress. You're pleased with it, it looks good. But now what?
You should never invest in a new website if you and your web developer/designer don't know what you want a new website to achieve for your business.
Do you want to generate more leads from your site?
Would you like your visitors to buy products on your website?
Perhaps you want them to find out more about your business or contact you?
Either way, most businesses want their website to generate new business. However, how to convert website visitors into customers is an art in itself. Here's how we would go about it…
How to Convert Website Visitors into Customers Using these 4 Steps:
Get the Basics Right
Mobile Friendly
It's fair to say that most people browse the internet on their smartphones these days. Broadband Search cites data from Statista that shows in quarter 4 of 2019 the mobile share of organic search engine visits was 58%. The data shows that mobile traffic to search engines is continuing to overtake desktop traffic. So, if your website isn't mobile-friendly and responsive to different screen sizes, including tablets, desktop and mobile, your website is going to have very little chance of converting website visitors into customers.
SSL Certificate
How to convert website visitors into customers is all about trust. Having an industry-standard Secure Sockets Layer (SSL) Certificate correctly installed on your website provides that reassuring padlock icon in the website URL bar. It gives website visitors that added bit of confidence that your website is safe to browse, carry out transactions on and protected from cyber-attacks, viruses and hacking.
The iThemes Security Pro plug-in is great at protecting WordPress websites from such attacks.
The Need for Speed
The average website speed is 1.286 seconds on desktop and 2.594 seconds on mobile. That's the Time to First Byte (TTFB). The average time it takes to fully load a webpage is 10.3 seconds on desktop and 27.3 seconds on mobile, according to Backlino's analysis of 5.2 million pages.
It seems the more readily available internet access has become; the more impatient internet users have become. In fact, the probability of people leaving a webpage increases by 32% as Time to First Byte load time goes from 1 second to 3 seconds.
It's not all about TTFB, however. In fact, it's probably more important to aim for a visible and usable page within those times, not just having sent the first byte, as Business Development Director at Coaching Mentoring Ltd, David Firman helpfully pointed out on LinkedIn.
He pointed out that Google's free PageSpeed Insights tool measures this nicely, simply paste your website URL in the search bar and away you go!

It goes without saying, if your website loads at a snail pace, it will be an instant turn-off for website visitors.
User Experience (UX)
To make the right impression with website visitors, your website needs to offer a positive, seamless and memorable User Experience (UX). If the aim of your website is to help people learn more about your business and what you do, this can be as simple as making information easy to find for your website visitors and avoiding jargon in your copywriting. The Plain English Campaign has great advice on how to do this.
In terms of web design, make sure buttons (and the text overlaying them) and call-to-actions are clearly visible. To this, make sure you use complementary colours, fonts, positioning and styles. Ensure your menu is simple to navigate too.
To take your desired conversion action, your website should require as little action from your website visitors as possible.
Don't ask unnecessary questions in your online forms.
Have a progress bar near the top of your webpage to reassure website visitors that they don't have long to go in the purchasing process on your website.
Use Breadcrumbs to make it easier for website visitors to navigate back to where they were when browsing your products and services.
Include a search feature so your website visitors can seamlessly search your blog posts.
Feature intuitive filters and 'people who liked this product also viewed' feature to make online shopping on your website easier.
Content Machine
So you've worked hard at driving people to your website using Email Marketing and Social Media Marketing and Search Engine Optimisation (SEO), now you need to keep your website visitors interested enough to remain on your website.
Videos
Remember above when we said the answer to how to convert website visitors into customers lies in trust? Nothing builds trust more than consistently producing and uploading high-quality videos to your website. In fact, videos are the only medium that provides the movement of human facial features, known as "facial dynamics". The movement of facial features has a high influence on how trustworthy people in videos appear.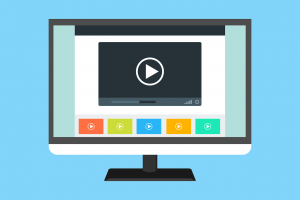 What's more, YouTube has 2 billion users. Facebook gets 8 billion video views a day, with Twitter enjoying 2 billion. What does all this mean? It means your audience is consuming video daily!  
People can see you and your team's faces, recognise your voices and soon build a rapport with you. Videos in which you share your screen to reveal how to do something or explain how your product is made work wonders. People also can't get enough of testimonials and reviews that are given by real people in front of the camera either!
Sharing tips and interviewing your staff about what their job entails will endear people to your company and compel website visitors to stay on your website for longer, as they'll want to watch your video until the end.
4 minute 7 seconds was the average video length in 2018 but, while vidyard notes that the rule of thumb is to keep videos under 2 minutes long, the best video length will depend on where you want to share and embed your video, what the purpose of the video is and what industry you work in. However, if you produce enough high-quality quick videos, people will want to watch more and more, thus staying on your website for longer.
Case Studies
Nothing builds trust better than stories from other people, just like your website visitors, who have been helped by your services or product. Case studies illustrating how your business has made the lives of other people easier allows your work to speak for itself rather than selling directly.
Case Studies can take the form of written text, but multimedia such as videos and photographs work especially well. People love having a nosey at your company's history and track record, so case studies are a great example of how to convert website visitors into customers.
Blog Posts
Website visitors will also begin to trust your brand if you consistently publish well-researched, high standard informative blog posts sharing helpful tips, and insights about your industry.
Writing blog posts can be tricky but start with writing what you know about based on your daily experiences in your business. Give people what they want and try to answer the questions customers often ask you over phone or email. Don't forget to link to other reputable websites you have cited information from to be transparent.
Publishing original results from a survey or research your business has done also tends to catch the eye of website visitors.
Free Downloadable Resources
Similar to blog posts and videos, free downloadable templates, checklists, guides and whitepapers can establish your website as a fountain of knowledge in your field of expertise and keep website visitors coming back for more. By making some resources free, your business appears generous as well as emerging as the go-to thought leader in your industry.

Podcasts
Where videos help website visitors put a face to your business, Podcasts allow them to get to know the different personalities and voices behind your brand. Podcasts also tend to be around 43 minutes in duration so fascinating or entertaining podcasts will capture website visitors' interest for longer, keeping them on your site.
Why Measuring Matters
How will you know if your new customers have become just that as a result of your website? Well, you could ask them. "How did you find us?" "What made you buy from us?" While some will be happy to answer, others would prefer not to and just get on with their purchase/sign-up. Also, asking people will generate subjective data.
We always say:
"If you can't measure it, you can't manage it!"
Website Visitor Tracking ID Reports
We offer these to our monthly customers. If your business sells to other businesses these GDPR compliant reports are great as they reveal which organisations have visited your website. They also show their contact details, which pages on your website they visited and how long they spent on your site.
Chances are, if a business visited your website several times, spent more than 20 seconds on your site each time and visited a product page on your website, then proceeded to buy that product, it was a result of your website!
Who Is Visiting, Fastbase and Lead Forensics are good website visitor tracking tools.
Google Tag Manager
Although Google Tag Manager doesn't allow you to identify customers on your website, it is capable of tracking events and goals and monitoring actions website visitors take on your website. For instance, Google Tag Manager can 'fire' when a website visitor submits one of your online contact forms, when your thank you page is viewed, indicating a person has purchased or downloaded something from your website or when a certain area like your 'buy now' button is clicked on your website. Alternatively, clicks on links that lead away from your website can be recorded.
Google Tag Manager can even monitor engagements with videos on your site and how far down a page visitors scroll. And the best bit? Google Tag Manager is free and doesn't require any complex HTML knowledge!
Understanding your website visitors' behaviour when on your site is a large leap towards figuring out if your website is acting as the conversion vehicle that it should be.
Heatmaps
Heatmapping tools can also help you discover and interpret your website visitors' behaviours. Tools like Hotjar, which offers 3 heatmaps on their Basic free version, reveal which areas on your webpages get clicked on and scrolled to the most on mobile, tablet and desktop.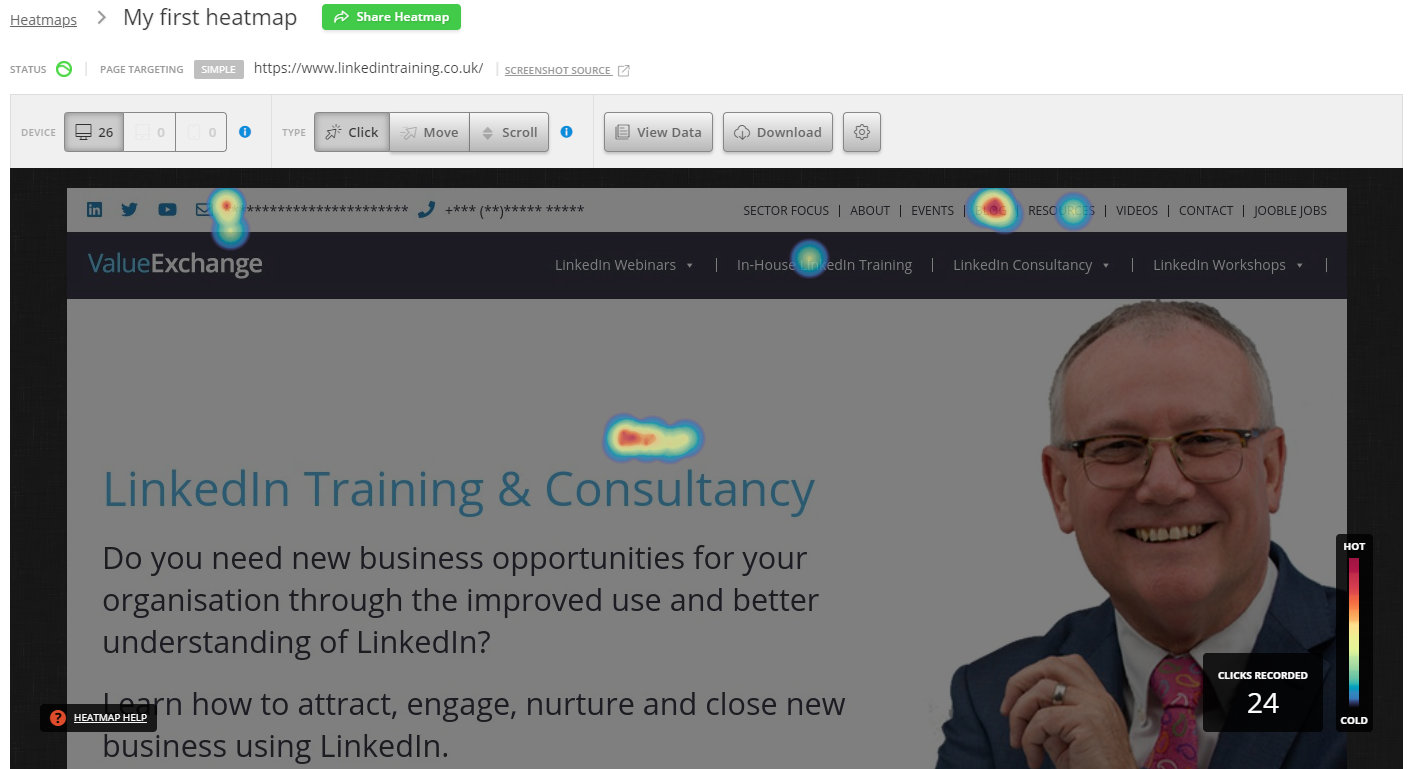 Hotjar even offers a feature called Polls. You can set a Poll to appear a bit like a pop-up when people exit your webpage that has a high Bounce Rate (the portion of people leaving your website after only visiting one webpage) or when they scroll halfway down a page. The Poll can pose a simple question:
"What if anything stopped you from [buying/downloading/calling/submitting a form/signing up/subscribing] today?"
By understanding your website visitors' behaviour on your site, you'll know better about what features on your website are working and what aren't. This will help you determine what you can improve and reveal more about how to convert website visitors into customers!