A client came to us to ask if there was any way to appear higher up in search results.
Until then, we had already set up and implemented SEO on their website, and they were already appearing on the first few results pages for their main keywords.
But we were interested to see if we could improve their rankings even further!
What we did to improve SEO on WordPress
We went through their current SEO keyword layout plan that we had created and thought of ways to improve in regard to keywords, and pairing this with Semrush we were able to find more suitable keywords for their main website pages, which we then changed.
After that, I then went through all pages of their WordPress website and tried to make sure that all the SEO & readability scores (provided by using the Yoast SEO plugin) are green. I then made changes to the pages where necessary – e.g. adding alt text to images, adding more keywords within the text (without overdoing it), and also adding more content to the pages.
Semrush recommended improving schema
Semrush recommended adding schema for Aggregate Review as an improvement tip. This was essentially adding the below code (in blue) to the current schema.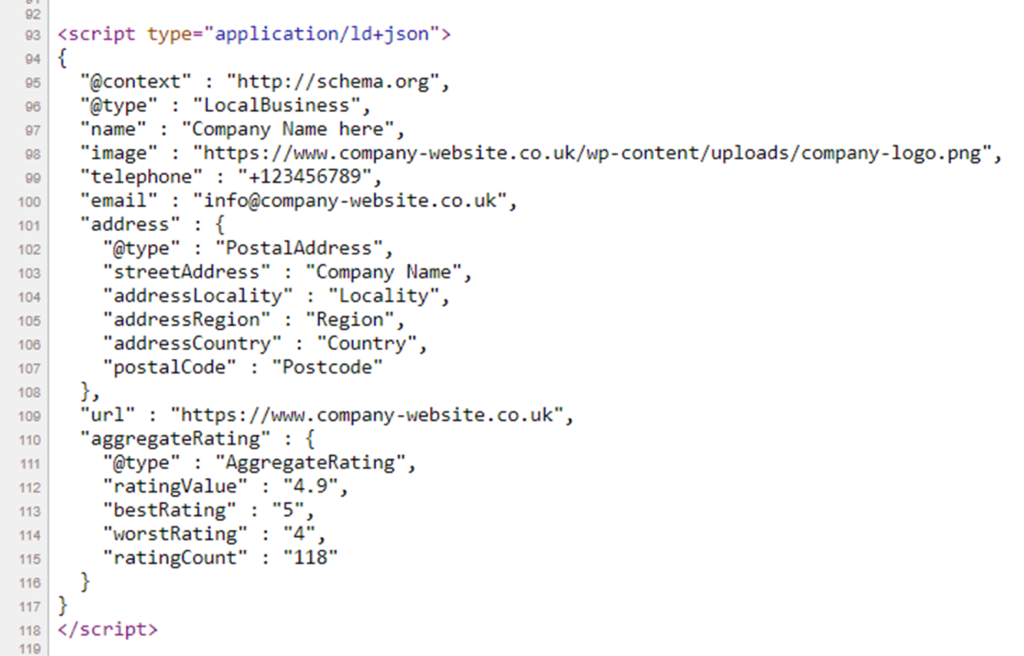 ratingValue, you add your average rating.
bestRating, you add your highest star rating.
worstRating, you add your lowest star rating.
ratingCount, you enter how many reviews the above stars are based on.
Using SEObility to further improve SEO on WordPress
After using Semrush to find areas to improve on the WordPress website and keywords, I used a website called SEObility that was very helpful with further SEO ideas to implement that Semrush didn't offer.
This included things such as:
Adding titles to images that included the keywords of that page. Titles are similar to alt text but can be much more descriptive. Image titles sit within the HTML. For example, adding a title would look something like this:
Adding <strong> tags around the keyword on the page where appropriate.
Changing some image URLs to include the page's keywords, which would look something like this:

From: https://www.pivotalmarketing.co.uk/wp-content/uploads/2022/05/service-1.png
To: https://www.pivotalmarketing.co.uk/wp-content/uploads/2022/05/digital-marketing.png
Whilst making these changes to their website I also removed lots of unnecessary pages, such as test pages and ones with no content.
Adding Google reviews
Finally, I added a Google Reviews widget to the footer of their website. Although this isn't going to improve their SEO, it will hopefully improve their visitors' user experience and conversion rates.
Unless visitors have searched for the company directly on Google, they won't have the chance to see its Google reviews except if we embed them on the website. So, by adding those reviews to the website footer, we are allowing guests to see them even if the website only ranks on page 2 or 3 of the search results.