R.A. Sidebottom
WordPress Website Revamp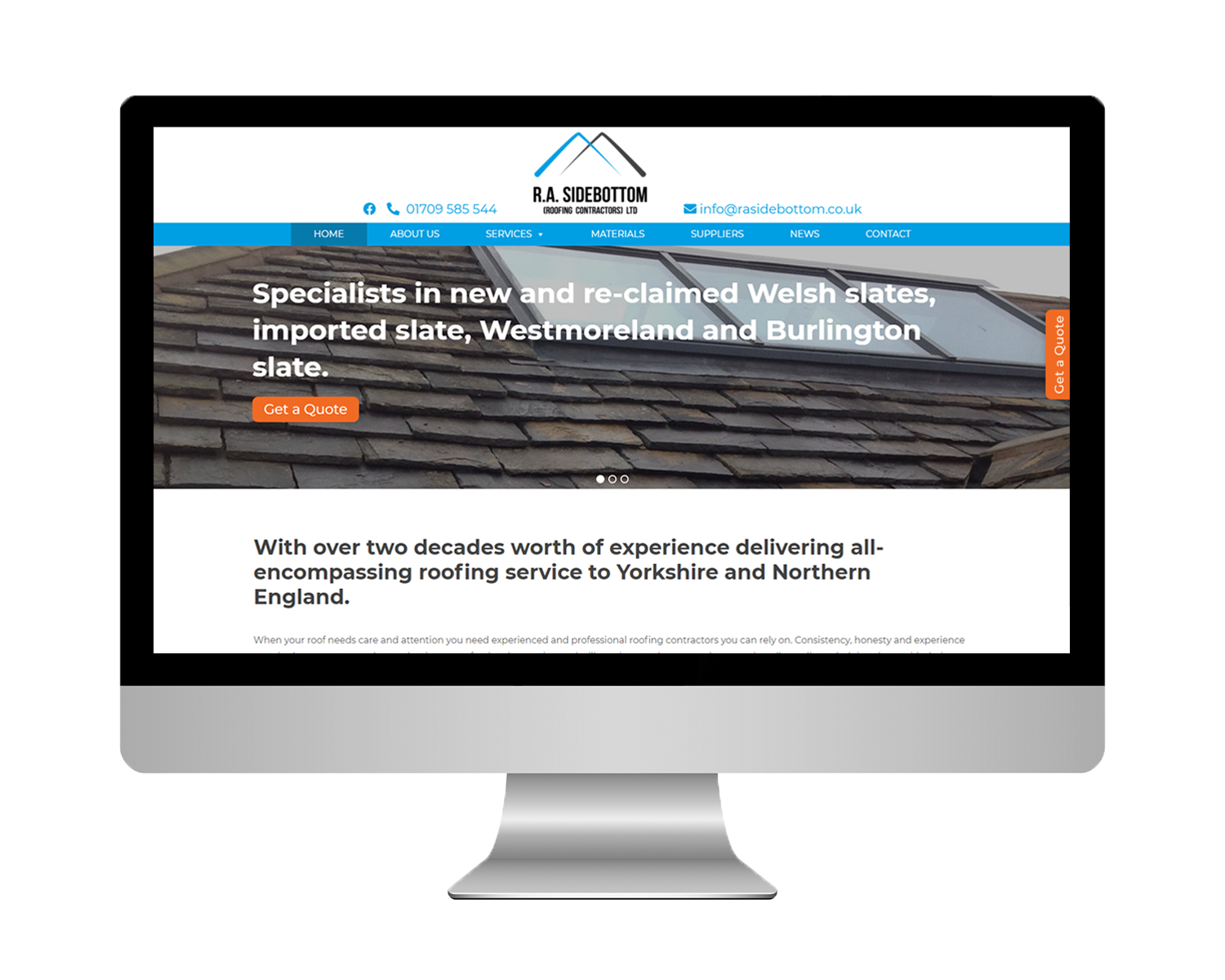 About the Client:
R.A.Sidebottom (Roofing Contractors) Ltd deliver a wide ranging roofing service to Yorkshire and Northern England, underpinned by over two decades' worth of experience.
They specialise in local authority re-roofing and regeneration work for homes and businesses and excel at traditional heritage roofing work, often on churches, which includes re-slating and leadwork. They are also experts in new and re-claimed Welsh slates, imported slate, Westmoreland and Burlington slate.
Brief:
We had designed and developed R.A. Sidebottom's WordPress website in 2017 but, as technology has developed and website visitor expectations have evolved, they recognised the need to update their website.
We were asked to create a bespoke mobile-friendly website design using the existing branding and database.
What We Delivered:
As well as smartening up the footer (area of the website that appears at the bottom of every webpage and blog post), we redesigned the header (top area of the website) to give it a cleaner look. This included making the header and menu dynamically 'sticky' so it always remained visible and easily accessible even when a website visitor scrolled down.
Speaking of menus, we added a Mega Menu, which features images to make the site more visually appealing.
We refreshed the homepage slider images and the 'Our Accreditations' slider which are both powered by the Soliloquy plugin. (Previously the Accreditations were static images in the footer, but we thought a bit of movement would make the site more engaging).
Building on the theme of engagement, we added a 'hover over' effect for the services on the homepage for increased interactivity.
We added a more striking accent orange to the design and modernised the font to bring the site up to date.
To enhance the User Experience, we incorporated 'breadcrumbs' on the main image banners so visitors can navigate around the site more easily.
Ensuring key Calls-to-Actions were more prominent, we made sure the 'Get a Quote' button always remained at the side of the screen no matter what page a visitor was on or how far down they scrolled.
It goes without saying we added a Google Analytics Tracking Code, Yoast SEO plugin to help them optimise their pages and posts for higher search engine rankings and CFDB7 plugin, so all website enquiry form submissions can be safely stored and easily accessed on the website's database.
Extra Services
It was our pleasure to offer David a 1-to-1 tailored WordPress workshop over Zoom to allow him to confidently take control of his website and make simple changes to text and images, including adding links and images. We also gave him an introduction to basic SEO.
Testimonial:
"Just had a full website refresh carried out by Pivotal Marketing Ltd and I'm very happy with the results.

"As always, Jayna was very knowledgeable and professional, a pleasure to deal with.

"I would highly recommend the team at Pivotal for the wide range of services they provide."

– David Garside, Managing Director at R.A. Sidebottom (Roofing Contractors) Ltd
Modernise Your Business' Website
Call us on 01484 290 100 to discuss a new website with us, no matter if it is a directory, portfolio website, small online shop, large scale Ecommerce operation or a simple informational site you would like refreshing!
---
Written on
September 16, 2021