ElliotLee Estate Agents
WordPress Website Design & Development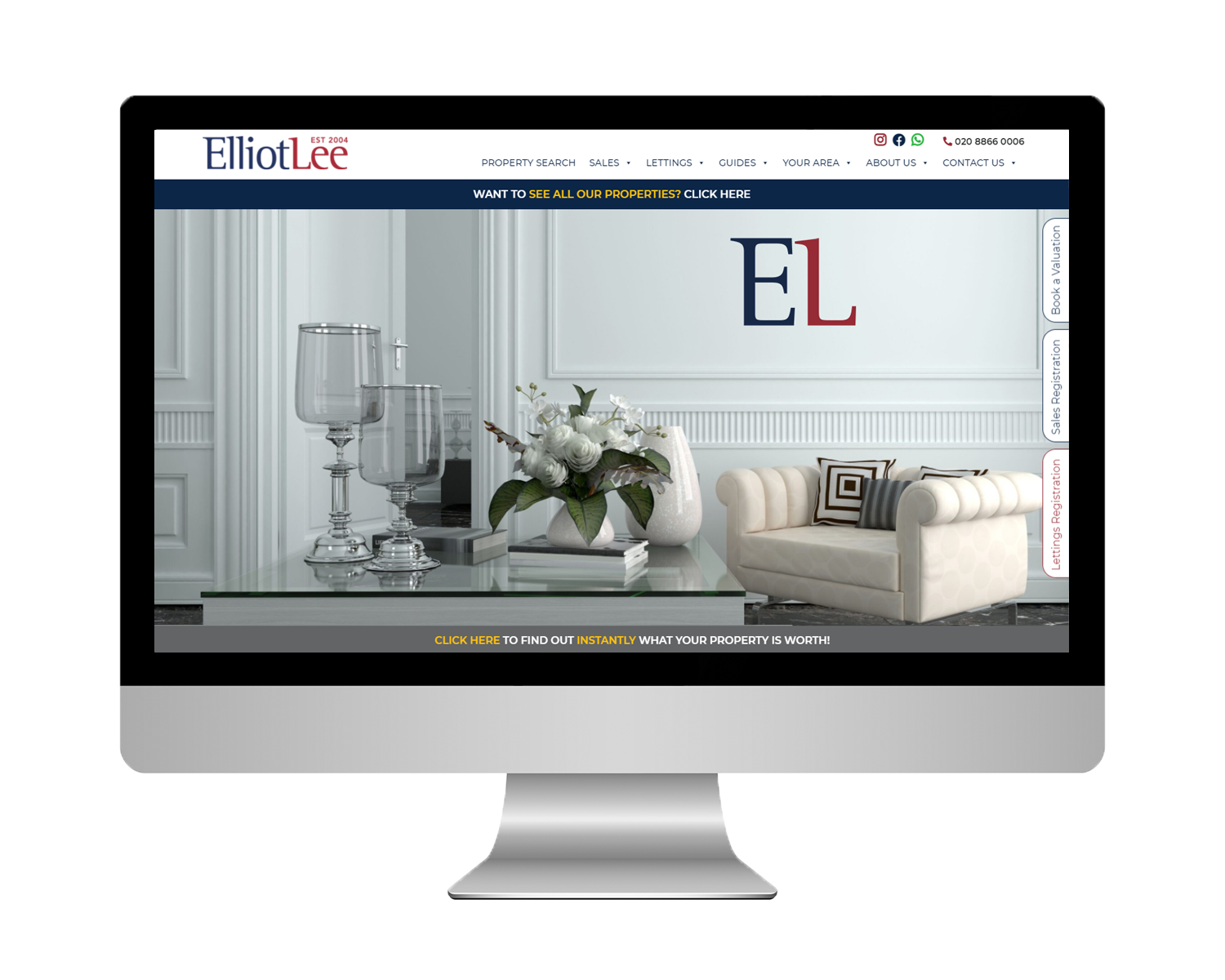 About the Client:
ElliotLee Estate Agents serve landlords, buyers, sellers, and tenants in the boroughs of Harrow, Hillingdon, Brent, or Ealing. Proud to be local unlike their big national chain counterparts, they take an innovative, dedicated, and transparent approach.
With a Land and New Homes department and a Landlords and Investors Club, ElliotLee are well placed to offer first-class mortgage and solicitor advice along with everything you need to buy and sell property.
The Brief:
With a homepage bloated with content and a website oversaturated with disjointed information, ElliotLee needed a cleaner, lighter, and more streamlined website that was easy to navigate and use on all devices. This was something we were all too happy to provide them with!
What We Delivered:
Consistent branding to give the website a coordinated look. For example, all aspects of the tenants and landlords pages, such as buttons, links, headings, and banners follow the same red colour, while all aspects of the sellers or buyers pages follow the same smart dark blue colour.
User-friendly forms in the website footer calculate key sums, for instance, Rental Yield, Stamp Duty, and Monthly Mortgage Repayments.
We added a Mega Menu, which features images to make the site more visually appealing for the 'Your Area' tab.
A seamless User Experience was ensured by making the main menu "sticky" resulting in it always remaining visible at the top no matter how far down a visitor scrolls and adding filters and categories. Examples of these can be found on the 'Helpful Guides' page, where visitors can narrow their search down by selecting 'Buying', 'Letting', 'Renting' or 'Selling' and the location dropdown functionality on the 'Your Area' page.
We facilitated the integration with third-party platforms, such as the Market Reports for various areas, which are powered by Dataloft.
A revolving carousel of thumbnail images on the homepage link to all the helpful Guides ElliotLee has produced. These either link to page-turner links in Issuu or forms that are integrated with ElliotLee's CRM, Lifesycle, that visitors have to complete to access and download certain guides.
Strategic call-to-action buttons in the form of side tabs or tabs at the bottom of the screen, increase the chances of website visitors taking a desired action.
We utilised Advanced Custom Fields to create a straight-forward way for the client to change the message appearing on the top banner depending on who the intended audience of the page was (sellers, buyers, landlords, or tenants).
The iThemes Security Pro plugin was installed and set up for increased WordPress website security.
Google Reviews were displayed in an aesthetically pleasing way on the homepage using Trust Index to help ElliotLee build trust with their website visitors.
Cookie Acceptance Policy banner at the bottom which prevents website visitors from exploring the website until they either accept cookies or amend their cookie settings. We made sure the cookie banner kept ElliotLee compliant without blocking any of their key website features or calls-to-action.
Extra Services:
We offered James a 1-to-1 tailored WordPress workshop over Zoom to empower him to take control of the website and make basic amendments to text and images, including adding links and images. We also gave him an introduction to basic SEO.
We carried out SEO Keyword Research producing an SEO Site Map. Once the Site Map was approved, we applied SEO Titles and Meta Descriptions to the website, increasing the chances of the pages ranking highly in search results for target keywords.
Testimonial:
"We were recommended to Pivotal by another of our customers as we wanted to refresh the website. What we finished with was beyond what we had hoped for. All the team have a professional but friendly approach and time frames managed excellently. Would highly recommend."

– James Burgess, Sales Director at ElliotLee
Enhance Your Website's User Experience, Look and Feel
Call us on 01484 290 100 to discuss a new website with us, no matter if it is a directory, small online shop, large scale Ecommerce operation or a simple informational site!
---
Written on
March 21, 2022