DMR Roofing Centre
WordPress Website Revamp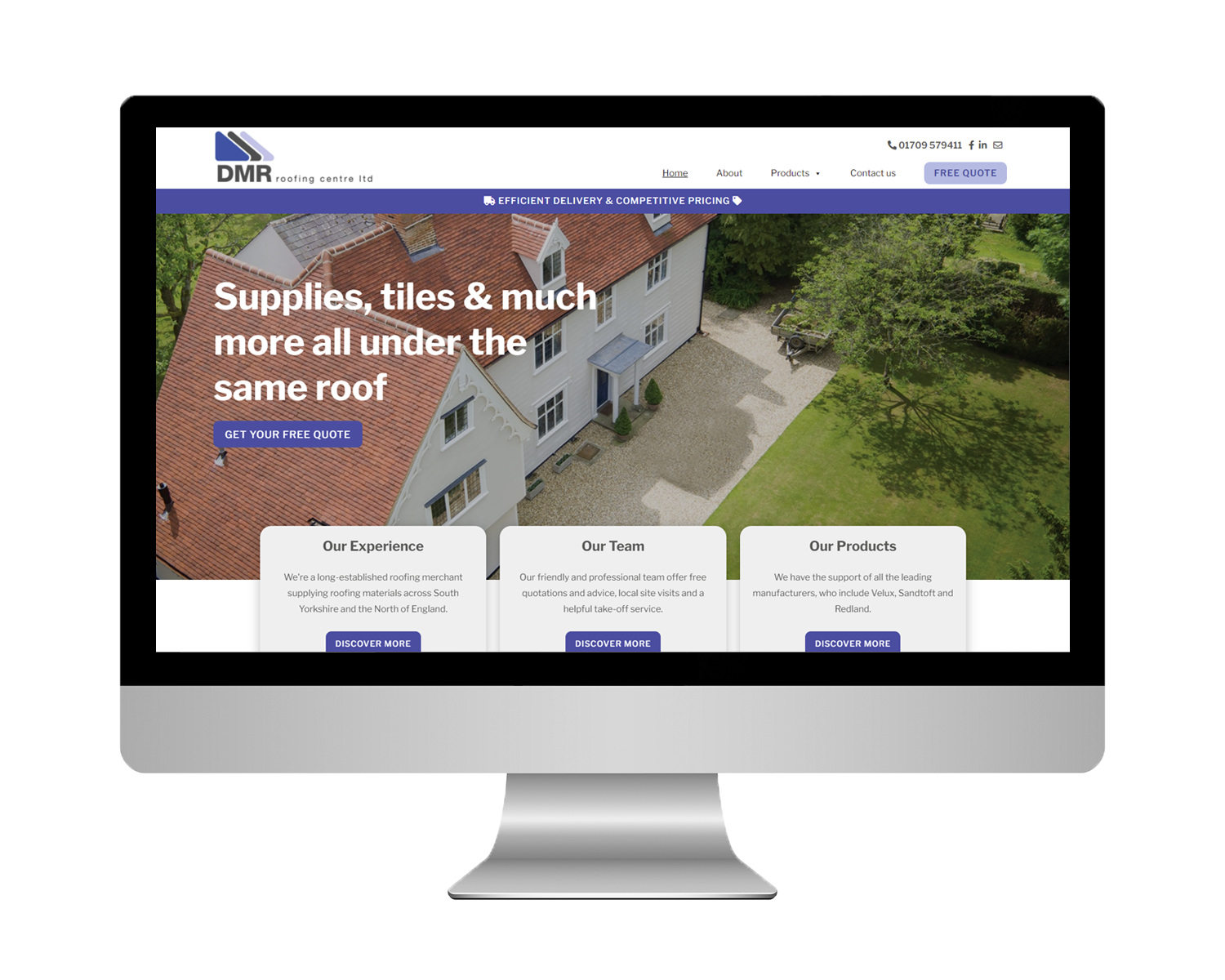 About the Client:
DMR Roofing Centre Ltd are suppliers of high-quality, durable roof tiles and roofing products to local roofers, builders, general builders' merchants and members of the public.
They pride themselves on their competitive pricing, efficient delivery service, and friendly and professional team. Their helpful take-off service, free quotations, advice, and local site visits set them apart from other roofing suppliers.
Brief:
We had designed and developed DMR Roofing Centre Ltd's WordPress website in 2017 but, as trends and customer demands have changed, they recognised the need to modernise their website.
We were tasked with creating a bespoke website design using the existing branding and database.
Making the website more responsive and mobile-friendly in recognition of the increase in people accessing trades businesses' websites via mobile devices was a priority.
What We Delivered:
We lightened the menu bar to make it feel and look cleaner. A small change that had a big impact on the modernisation of the website.
Many of DMR Roofing Centre's competitors had their product category links and pictures displayed on their homepage, as well as being accessible from the menu. We created a visually appealing grid of product images on the homepage with curved edges to reflect the curved triangles in the business' logo. The aim is that by placing the key product page links on the homepage, website visitors will be more likely to click through to them on their journey through the website.
We changed many of the banner images on the website in favour of high-quality up-to-date ones.
A prominent "Free Quote" call-to-action button was added in the top corner of the main menu to encourage enquiries.
The product pages themselves received a new look, with the text split up into grey boxes with curved corners and more headings and bullet points added to make the pages more welcoming on the eye and easy to scan. Product image galleries were added above the text on some pages.
Sam Hellewell, Sales Manager at DRM Roofing Centre also took the opportunity to inform us of some text that needed editing.
Extra Services:
It was our pleasure to offer Sam a 1-to-1 tailored WordPress workshop over Zoom to empower him to take control of his website and make simple changes to text and images, including adding links and images. We also gave him an introduction to basic SEO.
Testimonial:
"Fantastic level of customer service. was very helpful in the services we used. would definitely recommend for any website or marketing solutions!"

– Sam Hellewell, Sales Manager at DMR Roofing Centre Ltd
Get Your Business' Website Refreshed
Call us on 01484 290 100 to discuss a new website with us, no matter if it is a directory, small online shop, large scale Ecommerce operation or a simple informational site you would like refreshing!
---
Written on
February 2, 2022