BuBul
Ecommerce WordPress Website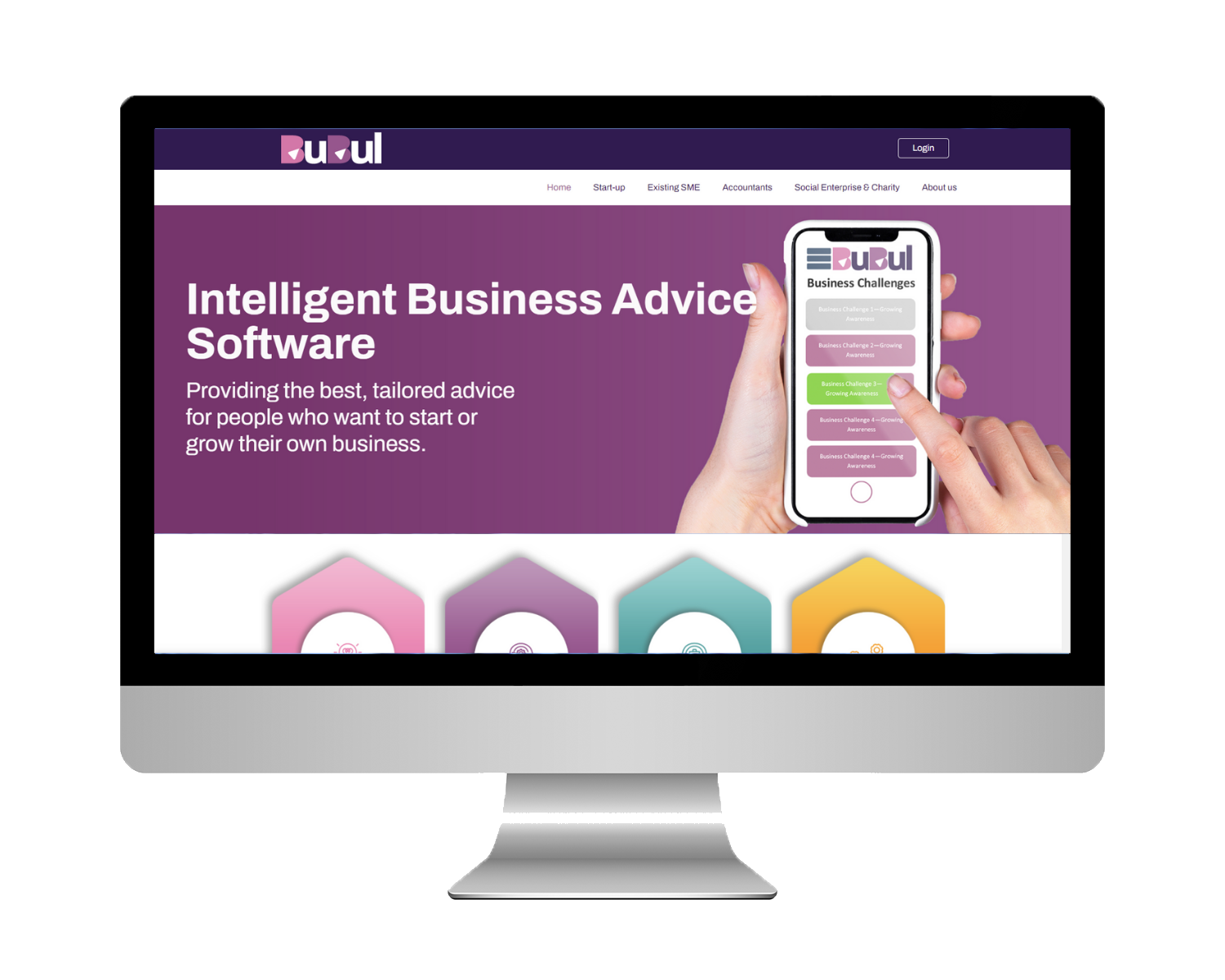 About the Client:
Using their experience in customer-journey-driven business growth, the people behind BuBul have developed intelligent cost-effective business advice software packages for SMEs and their advisers.
BuBul empowers businesses to generate profitability by transforming enquiries into sales and customers into long-term supporters by providing expert analysis advice and valuable resources.
The brand has produced a brilliant tool for anyone running a new business, thinking of starting up a business or any business owners who know their company has growth potential and want to capitalise on this knowledge, giving them invaluable access to lots of experts.
Website Features:
A bright, vibrant and colourful design, with fresh and uniquely designed graphics and striking homepage sliders. Simplicity was key in this design, which required lots of different high-level graphic vector assets.
It was key that the style and feel of each individual page were specifically created to reflect the different audiences they were each targeting, such as Accountants, Social Enterprises and Startups/SMEs.
WooCommerce, WooCommerce Stripe Gateway and WooCommerce Subscriptions plugins fully configured to enable BuBul to seamlessly sell their various software packages and facilitate safe payment, including recurring payments.
BuBul's website is complex in how it grants varying access levels to different customer types (Accountants, Social Enterprises, Startups/SMEs). We maximised the Ultimate Member plugin and integrated it with WooCommerce to allow for these varying access levels.
We installed an SSL (Secure Sockets Layer) Certificate, which results in that reassuring padlock icon next to the website's web address, giving BuBul's website visitors peace of mind that they are protected when they visit the website.
We set up the iThemes Security Pro plugin to protect and secure the website.
Services Provided:
We enjoyed going above and beyond on this project when it came to design, not only designing the website to a high standard, but also designing the aesthetics of the software and app. In doing so, we ensured consistency and cohesion across the entire BuBul brand making for a professional first impression to people new to the products.
We were in constant consultation with the project owner, Nigel, especially during the design stage to make sure his objectives were achieved.
Testimonial:
"We were working hard on getting our new software ready for launch. We'd chosen a web designer and were ready to sign the contract. Then the lockdown hit and they called us to say they had decided to furlough everyone!

Pivotal were recommended by someone I respect and trust so I called Phil. Within hours we had agreed a price and way of working together. Within days we got the wireframes and shortly after the design ideas – which were great!

Phil and his team built a great website for our new software product. They gave us fantastic branding ideas, built the site with a clear flow through it and then went the extra mile by helping us design the look and feel of the software itself. Highly recommended!

I'm probably the most awkward customer anyone could have, and it was the first time I'd needed an e-commerce site so there were lots of questions I needed to ask! Phil and his team were so patient and helpful and we now have a site that we're very proud of!"

– BuBul: better business building Founder, Nigel Greenwood
Get Your Specialist Ecommerce WordPress Website
No matter if you sell resources, products or apps, call us on 01484 290 100 or contact us to discuss a new Ecommerce WordPress Website for your organisation.
---
Written on
February 1, 2022