Long Distance EV Car Trip to France – How it can work
This is a summary of the charging experiences during our 1,864 mile round trip to the French Alps in an all-electric car. In our case it is the excellent KIA E6 which has a 328 mile range and ultra-fast charging using the CCS Type 2 connector.
After taking delivery of our EV6 in March 2022, we were keen to use it for our holiday trip to France.
This brave decision was taken with more than a little trepidation, as we had never needed to charge anywhere apart from at home due to the fact we had never actually gone further than 120 miles (240 miles round trip). So therefore we had never had chance to use a public charger or the Kia Charge card.
As the holiday approached it seemed all we heard about was how unreliable public charging points can be, and were also aware of a friend who had just decided to ditch his electric Jaguar and go back to a hybrid car after much anxiety and frustration. It was nearly enough to scare us into taking the petrol car instead, but hey, fortune favours the brave right? Worst case scenario we'd have to sleep in the car!
It's important to say that a lot of forward planning had taken place to plan the journey (something you wouldn't even consider doing with a petrol car), making sure we had a stopover every 250 miles or so, and that stopover points would have charging facilities (there's a tick box for charging on the Booking.com filters), in case we couldn't find any charging points in between.
It's also important to point out that the KIA EV6 is capable of over 300miles on full charge and 250 miles on an 80% charge. This was a huge boost as it turns out, as we didn't think about re-charging until we got down to 40% battery. By which time we'd driven over 150 miles and ready for a break in any case.
It turned out that in real life we could get 230-240 miles from an 80% charge, travelling mainly on motorways at 70mph and with a full luggage load and climate control all the way. Although we'd never allow the car to get below 30% on most occasions.
So off we go…
Setting off from home in Yorkshire at 6am with 100% battery (charged using the home AC charger – it's important not to regularly charge to 100% apparently and only ever to 80% using a DC charger).
We had decided to get to France via Eurotunnel (because we could get 3 x value using our Tesco points meaning we only had to pay £10 for the return trip! Get in!!).
On paper it was possible to reach Eurotunnel at Folkstone without charging again. However, as mentioned above, when fully laden and cruising at 70 mph all the way with climate control permanently on, it was going to be tight. We had therefore planned to stop at an IONITY charger at Cambridge.
Charge 1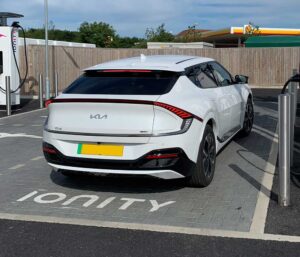 So far so good. The IONITY charging at Cambridge had 6 charges with only 1 taken as we arrived.
At this point this was the first time we had charged away from home, and so this was the first time we used the Kia Charge Card. This proved to be a fantastic option as the mere flash of this card would kick the charger into action with no phone apps and other payment cards required.
No sooner were we tucking into our breakfast sausage sandwich, but my Apple watch (or phone) was pinging me that we were fully charged after only 10 minutes! This is another benefit of the KIA that it has the DC fast charging. I had to leave my half-eaten butty for a few minutes while I moved the car from the charging bay.
So off to Folkstone now with an 80% charge (240 miles ish) with only 124 miles to go to FREE charging at the Eurotunnel terminal.
Charge 2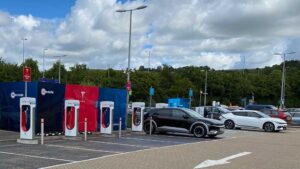 This may have been lucky but after we booked in at Eurotunnel we drove straight up to DC charger to get back up to 80% battery Free of charge!
I say 'lucky' as there was a family in a Hyundai Ioniq 5 (another beautiful car) also looking to charge but struggled to get their charger working. They would have to get to Calais to try there.
It's worth mentioning that some of the charge units were designed and passed by the Ministry of Crap Design, as you can often find units with some buttons and information on the front and then have other buttons and information on the side? It's a mystery! But I'm forced to wonder if many charge points do work it's just that they are sometimes not as simple to use as they should be, unlike the IONITY chargers.
Charge 3
By now we had reached our friend's house near Valenciennes, south of Lille, with the hope that we would find a supermarket charger close by. Although we did go straight to a Lidle charger, it didn't work. We wondered if it was because it was Sunday and the actual Lidle wasn't open? Anyway we weren't particularly worried as we still had 40% battery and only 3 miles to go.
As luck would have it our friends lived next door to a KIA eNiro owner (a brother from another mother) who allowed us to charge at his home charger! Such a nice family that they wouldn't take any money for the charge although we managed to thrust a nice box of posh chocolates on them as a thank you.
So after 3 days and a lot of beer and wine off we go again to Orges with an 80% battery charge, our half way stopover point on route to Annecy.
Charge 4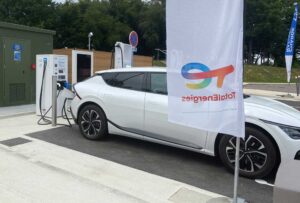 On our way to Orges we start to see that most of the service stations have a little electric car sign to indicate they have charging points.
We quickly learned that the motorway charges are usually available and plentiful as they are usually high-capacity charges that have EV cars charged and on their way in a few minutes.
We stopped at such a station near Troyes and had a welcome break. This station turned out to be a Total Energies station and not IONITY – at the time it didn't matter as we were just pleased with the ease of how this was all going. However, this had a cost of 0.69 euros per kWh whereas I later discovered I would only pay 25p per kWh at an IONITY charger.
Off again to Orges, where we had deliberately booked a stopover with an EV charger. What could possibly go wrong?
Charge 5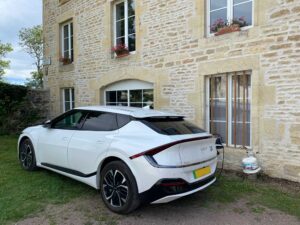 So its important to remember that Booking.com people are now wise to saying they have EV charging facilities when really they don't. Some say the have when really they mean there is one nearby. In this case it was a matter that they had an outside standard socket for the lawnmover! Overnight we managed to gain around 10% charge after 12 hours.
However, we knew we were only 30 miles from another IONITY at this point and were growing in confidence with the system and with French service stations. So following a hearty breakfast we set off once again, leaving at the same time as our new American friend Rex, who was walking a pilgrims trail from Canterbury to Rome. It's a thing apparently.
Charge 6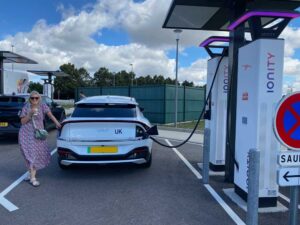 Just as the KIA Charge App had told us we would, we pulled into a service station with IONITY chargers after just 30 miles and charged back to 80% within minutes.
Now to Lake Annecy!
Charge 7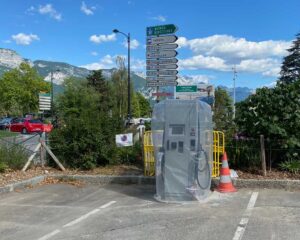 We had just presumed a large holiday location like Annecy would have a plethora of charging stations. The Apps told us so! There was one in the car park next to where we were staying, but although the App says working and available, it turns out to be covered in polythene sheets and not even commissioned yet.
Anyway, no need to panic, we still had two days and a town to explore. There were 4 high-capacity charges at a supermarket just 1.8 miles away and we still had 60 miles range left. Except the 4 charges were also not yet commissioned despite saying 3 out of 4 were available.
Hmmm.. starting to see why people find this frustrating. The app says that in another 1.8 miles there are 2 independent charges available so off we pop. You guessed it… 2 cars already sitting on the chargers neither actually charging and no owners anywhere to be seen.
Time to cut our loses and not allow the frustration to turn into anxiety, we headed back to the motorway where we knew there were 6 IONITY charges available 6.3 miles away.
Sure enough these motorway chargers were there, commissioned, working and available. Again, with hindsight, we should have just gone there on are way into the town as they are so much more reliable. Lesson learned.
So we had wasted an hour of our holiday searching for a charge point, and although we now have a deep insight into the road system of Annecy, we would have preferred to have been sitting in a café overlooking the Annecy canals or by the lake.
Anyway, after 2 fabulous days in beautiful Annecy we head off to the highlight of our trip, 7 days walking around Mont-Blanc Massif!
Charge 8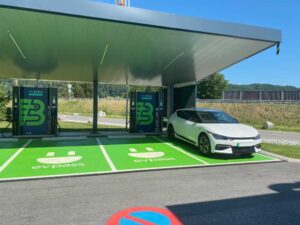 There was no need to charge at Chamonix as the trip included all transport and so the car sat on the drive all week.
Leaving Chamonix Mont-Blanc we headed up to Colmar, going over the east side of the alps and dropping into Switzerland (what an incredible road!). We charged at a service station at Bulle, after flashing the Kia Charge card which just seems to work anywhere at any type or make of charger. Something I highly recommend you get if and when you go down the EV route.
Charge 9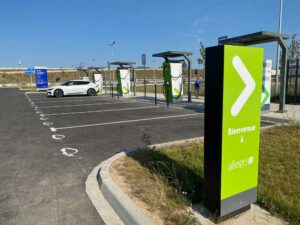 We feel like we have this EV charging thing sorted. Stick to charging at motorways. Never let your battery get below 30% and you won't have any anxiety and it's time to take a break anyway.
Back in France now we charge near Strasbourg.
Charge 10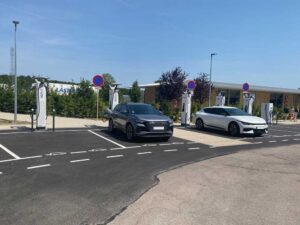 Same old IONITY – pull up, plug in, stretch your legs for 10 minutes, off you go with 80% battery.
Charge 11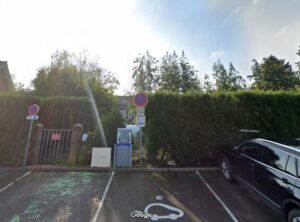 Heading back to Calais we realise there aren't nearly as many charging stations going North as there are going South, and the French service stations are not always on both sides or have a bridge over.
Realising we had only 100 miles to go but only 110 miles battery, we didn't want to risk it and arrive with only 10 miles charge left at Calais, so we deviated to find a southbound service station via a back road using Google Maps. Unfortunately, we couldn't get through a padlocked gate to the line of working chargers – all of which were available, and had to go back to a village which had 2 AC chargers only. Slow charging but after 30 minutes it was enough to get us back easily to Calais where we expected a line a free charging points similar to Folkstone.
Charge 12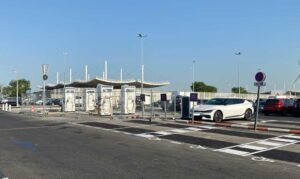 No such luck. A line of unusable Tesla charges greeted us with only 1 working standard charger for the great unwashed. Although I have the Tesla App for use for non-tesla cars, it doesn't work everywhere and definitely not at Eurotunnel.
As it turned out there was a 5 hour delay at Eurotunnel so every cloud and all that, there was plenty of time to get an 80% charge for me and my other EV brotherhood.
Charge 13
Back in the UK and faced with a load of night-time motorway closures after the Eurotunnel delay, it was at least easy to find one last IONITY charge to get us back to Yorkshire and end our 1864 mile epic trip.
Top tips for taking your EV on holiday abroad – Conclusion
1. Get an EV with a good range, at least over 200 miles
2. Plan ahead
3. Get a charge card that covers most charging providers – The KIA card is brilliant and seems to work everywhere.
4. Plan to charge at motorway services even if that means just a quick top up before you head into a town.
5. KIA charge give you half price for 12 months using IONITY which is then only 25p/kWh – cheaper than at home!
6. Don't let your battery get below 30% when travelling away from home.
Why Choose an EV?
Well our entire trip of 1,864 miles cost us just £98.87 according to the Kia Charge online statement. Add to that our top up back at home, plus the box of posh chocolates, that's still only £122 all in.
I know that if we had used the petrol car that would have cost us at least £445 for the same distance.
Range Anxiety
This undoubtedly exists but so far we haven't experienced that at all. It's all in the planning. Don't plan on using small independent 11kWh charges that will undoubtedly have someone sat on them.
Stop watching TV programmes that are at pains to tell you how bad range anxiety can be. Most of the time you will be charging at home or somewhere you can rely on. If you're travelling away just take your time and plan your stops. Yes this is more than you would do for a petrol journey, but you'll be saving money and doing your bit for the planet. Plus what they don't tell you is how calming and relaxed driving an EV can be. It really is a different driving experience that is a real joy.
Why Kia?
What a car! We absolutely love our EV6. It's a fantastic car to drive and look at. After 4 months we can't think of a single thing we'd change. People do tell us that it's a big car. We suppose it is but it doesn't feel like that inside, it is just calming and spacious and so easy to drive, it's not true. If I were being really nit-picky I'd ask Kia to allow me to mute the Sat Nav voice guidance, like I can on the Audi, but this is a tiny thing. We'd definitely get another Kia without any hesitation.