Meet Jordan — but this isn't just any Jordan. This Jordan is a Psychology graduate from the University of Manchester, already making his mark in the world of marketing as a Digital Marketing Intern here at Pivotal Marketing.
Armed with a keen eye for grammar and detail, Jordan knows what looks good and what doesn't, what's hot and what's not. With a sharp eye for design, a natural affinity for engaging copywriting and blogging, and a mind for all things analytical, Jordan is brimming with fresh ideas and infectious enthusiasm.
Hitting the Ground Running
Keen to apply what he's learned about human behaviour to real-world marketing contexts, Jordan got stuck in right away. He has been writing copy for websites, enhancing reporting and analysing techniques, learning the ropes of social media strategy, WordPress and search engine optimisation (SEO), and mastering email marketing campaigns.
With a desire to create original media campaigns that evoke emotional responses from consumers through emotional touch-points, Pivotal seemed like the perfect place for Jordan to gain valuable hands-on experience.
As an agency, we work with clients from a range of industries, from construction to aviation, from hotels to manufacturing. All these clients require responsive and optimised Ecommerce and bespoke websites, smart digital marketing strategies and creative campaigns — and Jordan plays a vital role in helping us with these services.
We caught up with Jordan to find out a bit more about life as a Digital Marketing Intern…
Congrats on your 2:1! We hope you're enjoying your internship. What appealed to you about working at Pivotal Marketing?
Thank you! Well, I loved the general idea of working in marketing, so I suppose getting experience and learning how it all works is the main thing. And what Pivotal does particularly is very closely aligned with what I want to do. Plus, the boss seems decent.
What do you enjoy most about your role here at Pivotal?
I get to be really creative, which is something I've always wanted in a job, plus I get to write about different things. There's a lot of variety, so I never really get bored. Oh, and I've learnt a lot. Not just about digital marketing, but also the products and services that we have to market. Oh yeah, I also love the office banter.
So, what does a typical working day look like for you?
Well, at first I'm just trying to wake up — I've never been a morning person. After that, it's hard to say, because it varies. Sometimes I've got a blog post to write, so I'm doing the research for it, writing it, finding some gorgeous pictures for it… Sometimes I've got some other website content to do, or some social media posts. Like I say, a lot of writing. If it's not that, it's the reports and fiddling with spreadsheets — nice and easy. Oh, and most days I need to pop to Tesco's for something.
You studied Psychology at The University of Manchester, which sounds like a pretty brainy thing to study. How does psychology work with marketing?
Well, psychology is about people — how we tend to behave, what we tend to like, et cetera. There's lots involved, loads of different areas to it, but I'm thinking about the part that marketing uses. There's a science behind what's in adverts to make people more interested. Plus, looking at marketing statistics and stuff feels a lot like analysing research data for one of my uni assignments, so I'm well used to that kind of thing.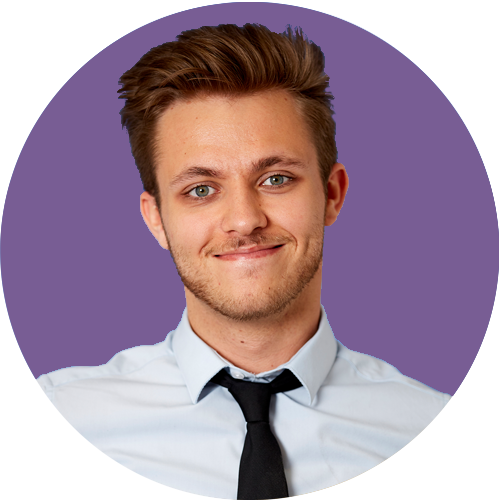 You said you've learnt a lot at Pivotal so far. What do you think is the most valuable thing you've learnt?
Well, it's hard to say, but I suppose it's probably SEO. For a start, I've learnt what it even is. All the stuff you can do to boost a website's SEO are really useful to know, and I didn't know about any of it before. Mind you, I'm still getting used to it now.
We have to ask, what is it you miss most about student life?
Living in Manchester, I think. It's a lot of fun, really. There's always something to do. I miss my uni friends, which I think is generally the saddest part about graduating, isn't it? Not to mention my bedroom in my uni house was massive – I had the best one!
So, what would you say to students who are about to enter the final year of their degree, particularly those looking to get into a marketing career?
Well, if they're getting into marketing, I'd tell them to get onto LinkedIn. Get used to it. Have a look around. Obviously, marketing agencies love it, so it's a good place to look for a job.
If they haven't gained any marketing experience yet — like I hadn't — I'd recommend they find an internship or apprenticeship or something for after uni. If they want to get experience when they're still studying, they should make sure it doesn't take up too much time. Their degree should be their top priority.
There are also graduate schemes around that might be good, but you normally need to apply for them around wintertime in your final year, so I'd say to start looking early if they fancy that.
And I'd wish them good luck with the rest of their course and say that my final year wasn't that bad compared to second year, so I hope the same happens for them.
You can connect with Jordan on LinkedIn.