Did you know, the average local business gets 1,260 monthly views? That's 943 average views on search results and 317 average views on Google Maps as per an insightful study by Bright Local.
If you've ever wondered what the benefits of Google My Business accounts are, then look no further. Check out these 5 reasons why you should maximise this essential free online tool for your business…
1) Keeps Your Audience Informed
From displaying your opening hours, social media links, and location to your business phone number and the services you offer, your Google My Business account is your key to keeping your audience in the know. Google is a lot of people's go-to when looking for answers about a certain company or when searching for a particular service. If your business is helpful online, they'll appreciate it!
Edit this information by logging into your business' Google account, clicking on the grid of nine grey dots in the top corner, and selecting 'My Business' from the dropdown icons. Next, select the 'Info' tab in the side menu and click the pencil icon to edit each section.
Don't have a Google My Business account? It's quick and easy to create one. Alternatively, you can claim and manage an existing Google My Business listing.
2) Gets You Found
Having a verified and optimised Google My Business account increases the likelihood of your profile appearing in the desirable local 3-pack (see example below). This propels your business name and information to the top of search results. It can indirectly help your website to rank highly too.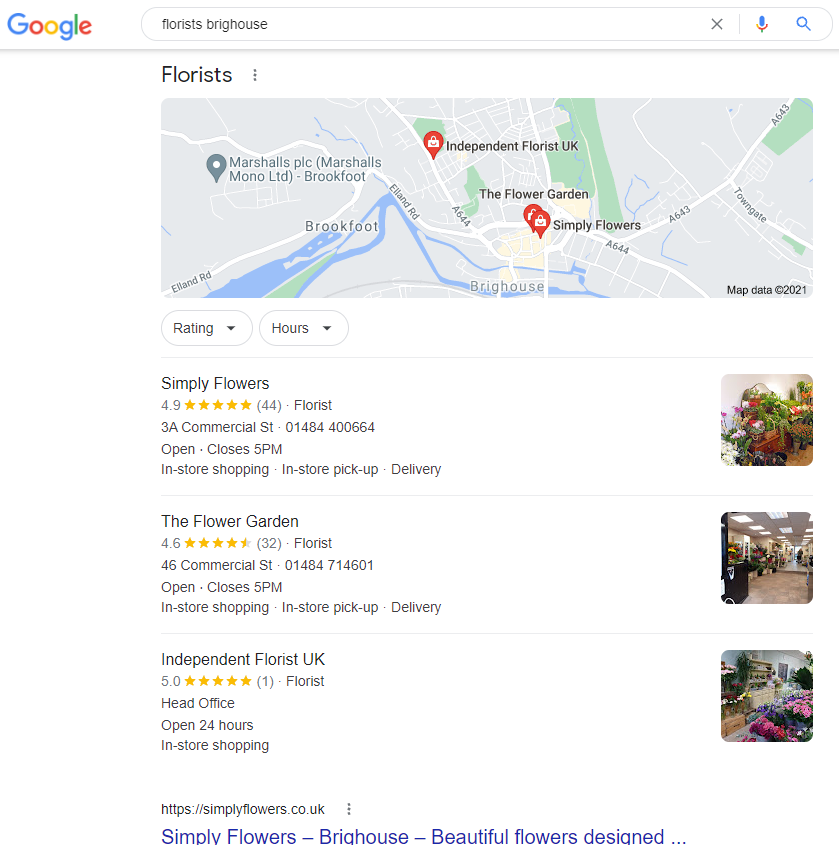 How?
It drives traffic to your website, as your Google My Business listing links to your website. (According to the 2019 study by BrightLocal that analysed the Google My Business listings of 45,000 anonymous local businesses, 5% of all Google My Business listing views lead to a website click, call, or request for directions).
It supplies social proof in Google reviews (more on those later!)
These both help Google as the search engine bases which results it displays on:
Relevance – how well the listing matches the searcher's intent.
Distance – the search giant shows searchers the Google My Business listings of verified businesses that are located nearby the searcher.
Prominence – how well known your business is.
So, your business must be "in it to win it" to stand a chance at ranking in the local 3-pack. You also need to fill out your Google My Business profile, including your address, so Google knows what you offer and what geographic area you serve in order to match your business to searchers' queries.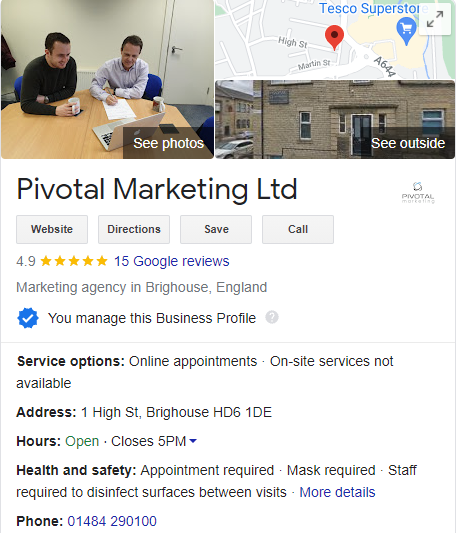 3) Secures You Valuable Google Search Real-Estate
Following on from the above benefit, if you have a completed and up-to-date Google My Business profile it can help you influence what information is displayed in Google's coveted Knowledge Panel. As Google says:
"Knowledge panels are information boxes that appear on Google when you search for entities (people, places, organisations, things) that are in the Knowledge Graph. They are meant to help you get a quick snapshot of information on a topic based on Google's understanding of available content on the web."
Google's Knowledge Graph is the search engine's database of billions of faces about people, places, and things.
Since Google's Knowledge Panel appears at the top, to the side of search engine results, and is highlighted in its own box, drawing the eye to it, they are valuable areas in Google's search results! Knowledge Panels are automatically created based on information from various sources on the internet. Google takes into account changes to a Knowledge Panel in two main ways:
Directly from entities shown in the Knowledge Panel – making sure your Google My Business listing has all the correct details helps with this!
General user feedback
4) Helps You Engage with Customers
Your Google My Business account gives you the opportunity to respond to Google Reviews left by your customers. Good or bad, we always recommend you respond in some way to reviews. Doing so publicly demonstrates that your business is actively involved with engaging with customers and prioritises their needs.
God a bad review?
Don't worry it happens! We advise thanking the person for taking the time to leave a review. State that your business takes all feedback onboard. Then invite the reviewer to contact the relevant member of staff (perhaps the one who managed their project) so your business can work to resolve their issue. This shows you've acknowledged the review but encourages it to be taken offline.
Go to the 'Reviews' tab in the side menu when on Google My Business to respond to reviews. You will also get an email to the Gmail account linked to your Google My Business profile each time someone leaves you a review.
5) Ensures Your Audience Keeps Up to Date with Your Business
Did you know Google now gives you the opportunity to publish posts? Similar to social media posts, these updates could be announcements about a special offer or event you're running or a new product you're offering. You could also utilise posts to showcase your latest case study, staff news, or sale.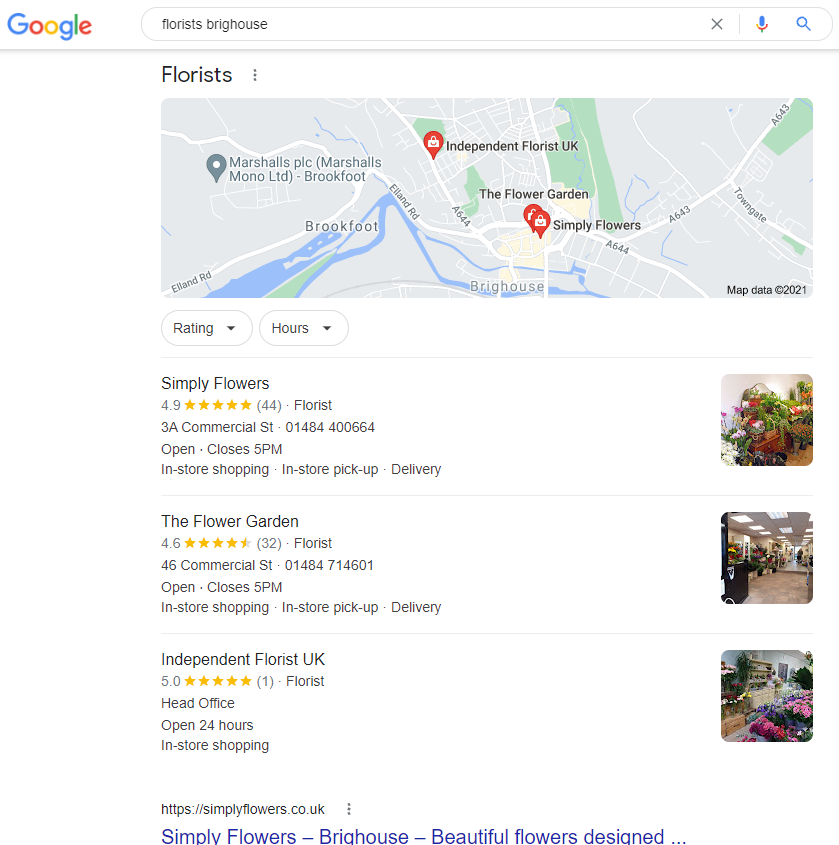 They appear towards the bottom of your business' Knowledge Panel.
Posts enable you to directly communicate with local customers, keeping them engaged with photos and videos. This improves your customers' online experience with your brand through the supply of timely information.
Add posts via Google My Business, by visiting the 'home' tab in the side menu when logged into your Google My Business account. Then click the 'Create post' button at the bottom of the 'Your latest post' section. Follow the steps in the window that appears. Scroll through the tab options at the top to find the type of post you wish to publish.
Note: Posts only remain visible in the Knowledge Panel in search results up until six months following their publication. This is unless a date range is specified.
---
What benefits have we missed about Google My Business? How has it helped your business? Let us know on Facebook, LinkedIn or Twitter!