Value Exchange, WordPress Website
WordPress Website Redesign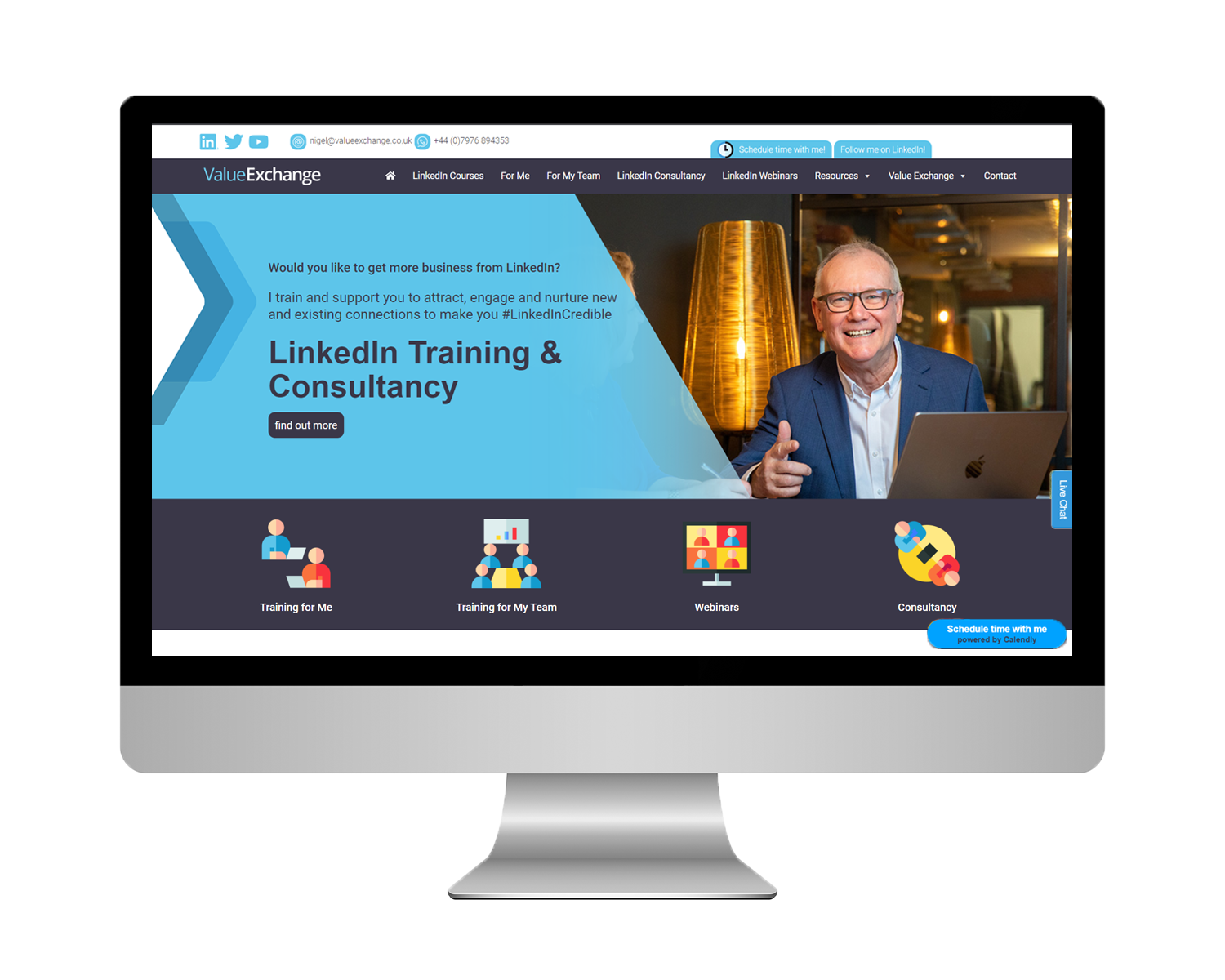 About the Client
Nigel Cliffe and his brand ValueExchange help businesses and sales teams to build relationships and trust and to become a 'Thought Leader' through actively engaging on LinkedIn.
Nigel offers insightful online and offline LinkedIn workshops and delivers webinars, In-House LinkedIn Training and LinkedIn Consultancy services on both a group and one-to-one basis.
Value Exchange work with a diverse range of professionals from sectors as wide-ranging as Advertising and Telecoms to Recruitment and Retail.
Website Features
A modern and clean design, using more of the blue and purple from their logo.
A two-tiered logical megamenu ensuring the website is easy to navigate.
A manageable WordPress website that can be easily updated with the latest news, testimonials and events Nigel is speaking at.
More calls to action, such as Connecting on LinkedIn, Scheduling time with Nigel, better placement of contact forms and links to download free PDFs.
To include new, high quality and professional photography of Nigel by himself and with clients to go hand in hand with the new sleek redesign.
The ability for website visitors to see Nigels upcoming speaking events and how to get tickets for them.
Search filter to browse Nigel's extensive video and blog post selection via category.
Sector pages illustrating how Nigel can use his LinkedIn expertise to help those in various professional disciplines.
A neat gallery with a range of insightful snippets, podcasts and full length videos.
A resources section showcasing Nigel's LinkedIn Training free PDF downloads.
The ability for website visitors to easily schedule appointments with Nigel via an inbuilt calendar placed in the header as well as the bottom right of every page.
A Live Chat feature in the bottom right of every page, to help visitors to the website find what they are looking for and enhance their User Experience of the website.
Extras
Testimonial
"I have worked with Pivotal Marketing Ltd for several years both on my account and that of many clients. They design, develop and maintain my website, report on my SEO rankings, help me with digital marketing including blog writing and have frankly, never let me down. They are a pleasure to work with and I would highly recommend them to everyone."

— Nigel Cliffe, Value Exchange
Get Your Specialist WordPress Website
Call us on 01484 290 100 or contact us to discuss a new WordPress Website for your business.
---
Written on
February 28, 2022