Imagineer Development UK CIC
Ecommerce & Elearning WordPress Website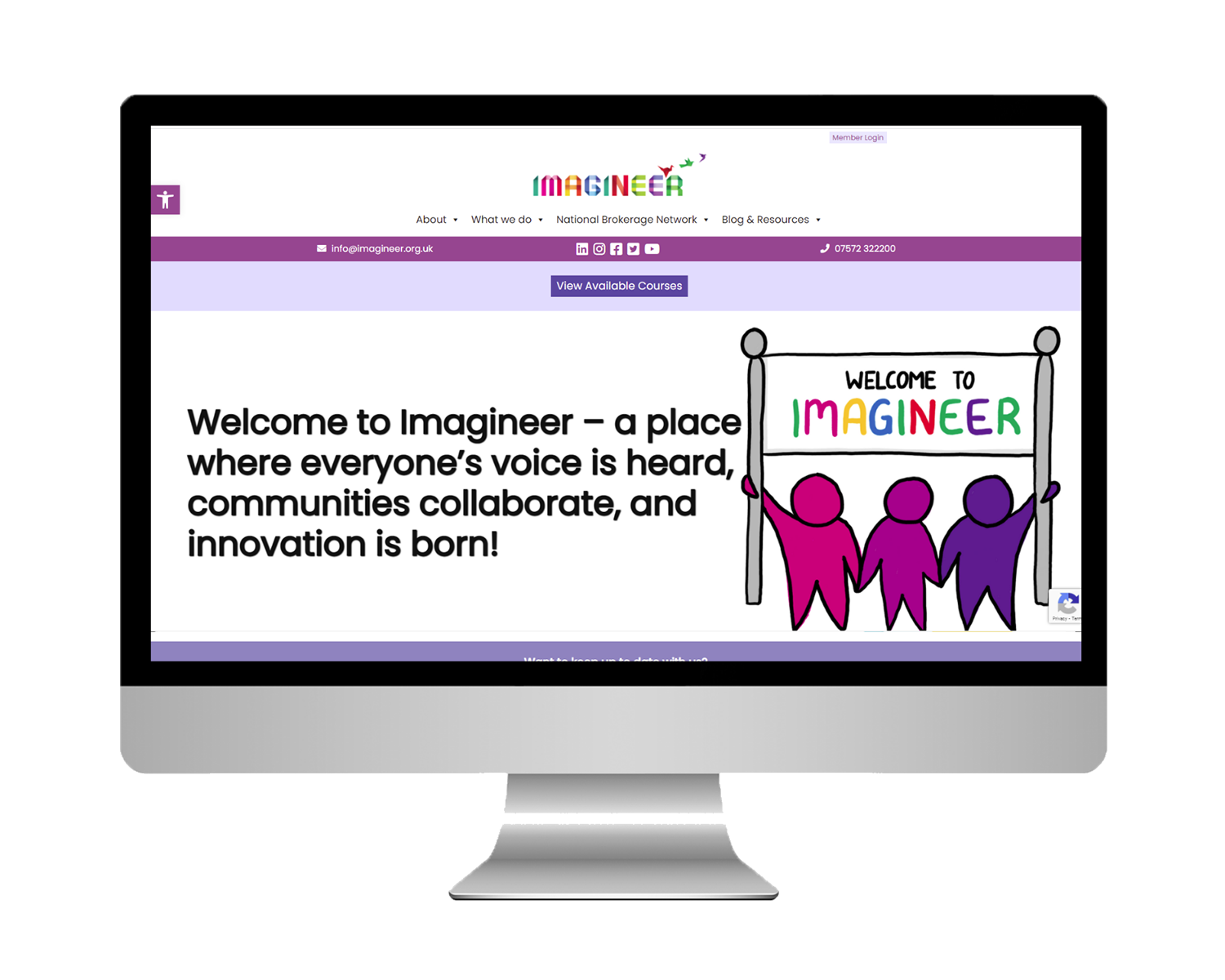 About the Client:
Imagineer Development UK CIC is a social enterprise situated in Northern England but with a national reach.
The organisation enjoys working with people regardless of whether they are eligible for Health and Social Care support, or if they are going through complicated or challenging life experiences. They offer Support Brokerage, Support Planning and Person-Centred Planning and Brokerage Management to anyone looking to Self-Direct their own support alongside Consultancy for organisations.
Home to the National Brokerage Network, Imagineer also deliver regular thought-provoking webinars and practical hands-on training courses around Support Brokerage and Graphic Facilitation.
Website Features:
A more logical User-Friendly visual menu created using the Max Mega Menu plugin that allowed for Imagineer's distinctive branded graphics to be included. Menu remains 'sticky'/ visible as users scroll further down the page.
Re-design of the whole website, including improving the design so the blog posts, Directories, Meet the Team posts and Case Studies are displayed in a neater grid whilst maintaining Imagineer's colourful look.
WooCommerce plugin fully configured to enable Imagineer to seamlessly sell their various webinars and online training courses and facilitate safe payment via PayPal.
Integration of Tutor LMS Pro Elearning platform with WooCommerce.
Enhanced search filters to boost the User Experience of Imagineer's Support Broker and Organisations Directories, enabling users to search them by Specialism and Location.
A newsletter sign-up button
Simplified the process of converting Membership form sign up submissions into Support Broker and Organisations Directory listing profiles.
Support Broker / Organisation Member area with exclusive access to resources.
We installed an SSL (Secure Sockets Layer) Certificate, which results in that reassuring padlock icon next to the website's web address, giving Imagineer's website visitors peace of mind that they are protected when they visit the website.
We set up the iThemes Security Pro plugin to protect and secure the website.
Services Provided:
Testimonial:
"As a Director of Imagineer Development UK CIC, we have been working alongside Pivotal to redevelop and amalgamate our websites into a more efficient and accessible platform for our stakeholders.

The work has been complex- involving the development of a membership area, directories, e-commerce and the integration of a learning management system for e-learning.

Phil, Jayna and Taylia are very friendly, approachable and highly skilled at what they do. They have responded to all of our requests and presented solutions as we have needed them. I would not hesitate to recommend their services."

– Imagineer Development UK CIC Director, Sarah Holmes
Get Your Specialist Ecommerce & ELearning WordPress Website
No matter if you sell physical products online, training or resources contact us on 01484 290 100 or contact us to discuss a new Ecommerce ELearning WordPress Website for your organisation.
---
Written on
February 2, 2022