Global Business Culture
WordPress Ecommerce Website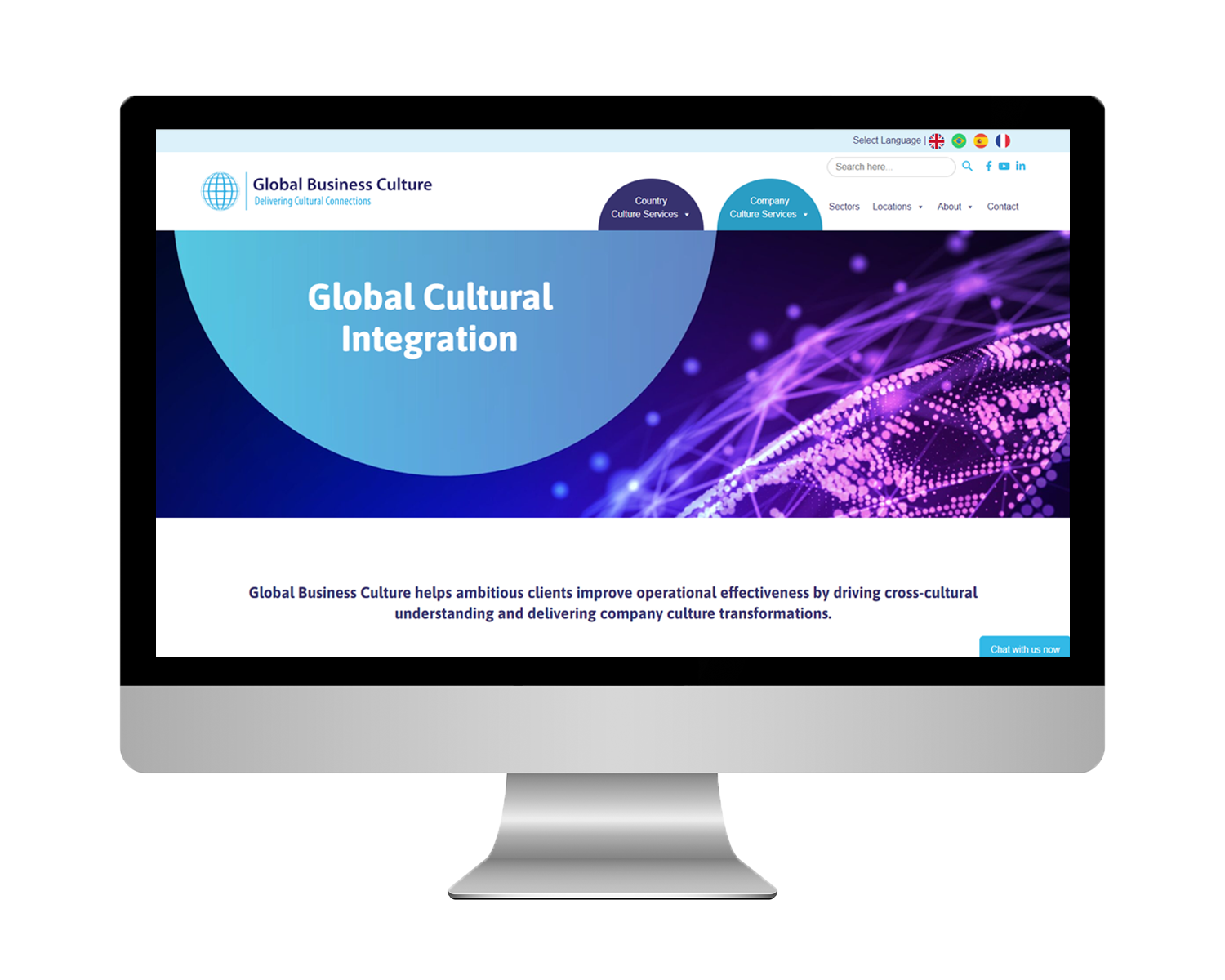 About the Client:
Global Business Culture sell online practical resources to help professionals and businesses develop their cultural awareness for over 40 countries around the world.
They are also global leaders in offering high-quality cultural awareness and virtual training to companies and professionals looking to enter foreign markets.
Brief
An existing Pivotal client, Global Business Culture's website and domain had already attracted a huge number of visitors worldwide. The owners were so pleased with it, they wanted a new design to gain more conversions.
They conceded that, in order to convert more visitors and researchers into potential clients, it was necessary to make careful but substantial changes to improve User Experience and give visitors more opportunities to get in touch and ask questions.
They also requested a plugin for their website to enable the user to change the language of the site. We decided on Weglot and it was the leading WordPress Plugin for translating websites. Weglot automatically translates text for you so it's very easy and simple to use, however you do have the ability to manually change words if they haven't quite translated properly. You can also stop words and phrases from being translated such as company names, trademarks or slogans, in this case we stopped 'Global Business Culture' from being translated at the clients request. The languages we selected for Global Business Culture were Brazilian Portugese, French and Spanish, again at the clients request.
Project
As the website offers information to a worldwide audience, with lots of daily visitors from both sides of the Atlantic.
In the process of improving the conversion rates we also had to
Protect the existing links and website content
Redesign the page layouts for both desktop and mobile users
Create more 'calls to action' around the pages to allow the visitor to get in touch
Connect the contact forms to GBC's CRM. Now, any website form submissions automatically populate a new Lead account on the CRM with information about the type of page they came from. We achieved this using the popular Gravity Form plugin connected to the CRM via the very versatile Zapier connector
Check and amend page metatags and SEO structure to see how we could improve the website's ranking in search results
Website Features
The Global Business Culture features
Weglot, to allow the website visitor to view the website in their preferred language.
The WooCommerce plugin to enable seamless online sales
The Advanced Custom Fields plugin, which enables bespoke fields to be added, especially around online products and services, to personalise the User Experience website visitors and to truly tailor the website to the client's unique business needs
The Lifter LMS plugin to facilitate the creation, sale and protection of engaging e-learning courses
Onsite SEO with the assistance of the Yoast SEO plugin
An effective cookie consent feature
The iThemes Security Pro plugin to protect and secure the website using features like WordPress Brute Force Protection and bad user lockouts
Testimonial:
"We have been working with Phil and the team at Pivotal Marketing now for about seven years. During that time they have built three websites from scratch and subsequently helped update two of those websites.

We have recently gone through a process of updating our core website with a view to making it more vibrant and engaging while at the same time looking to encourage more enquiries from potential clients.

We are extremely pleased by the level of technical expertise within the team as well as their ability to grasp the commercial imperatives driving our website strategy. In addition, they are a pleasure to work with – which makes the process much more enjoyable.

What's more to say – I would wholeheartedly recommend Pivotal Marketing if you are looking to 'up' your online presence."

– Keith Warburton, CEO of Global Business Culture Ltd
Get Your New Website
Call us on 01484 290 100 to discuss a new website with us, no matter if it is a directory, small online shop, large scale Ecommerce operation or a simple informational site!
---
Written on
February 11, 2022