Bandshire Limited, Website Development
Website Development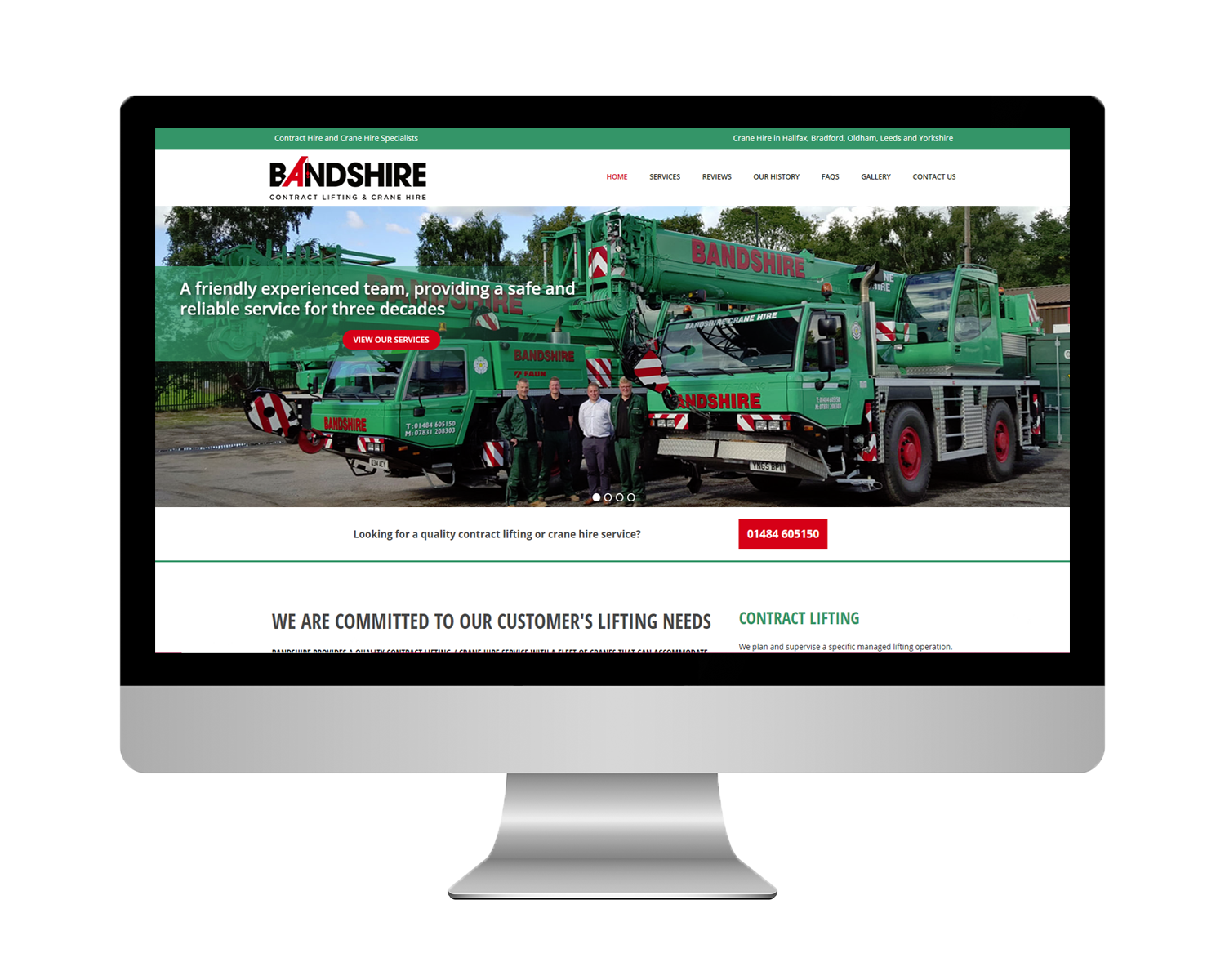 About the Client:
Bandshire Limited are crane hire and contract lifting specialists based in Bradley, Huddersfield in West Yorkshire. Founded in 1988, the Bandshire crane hire business is a family-run enterprise and, with their comprehensive fleet of cranes of all types and sizes, now cater for the whole of the UK.
Having worked with clients such as Grosvenor Chemicals Ltd and Yorkshire Sculpture Park for a number of years, Bandshire has built a strong reputation for themselves as leaders in their industry and have notably been involved in the transport of the famous 'Blood Swept Land and Seas of Red' installation of poppies that was displayed at HM Tower of London in 2014.
Why Did Bandshire Need Pivotal's Help?
Initially, Bandshire approached us and asked for training on how to maintain, refresh and update their WordPress website with new pictures and testimonials, noting that they would need professional help from time-to-time when the website required a full refresh.
They were also having problems at the time logging into the 'backend' of their website.
How We Helped
After some investigation, we realised that the old 'Billio' WordPress theme on Bandshire's previous website was broken, which resulted in users being unable to login to the Admin side of the site. We've seen this situation a lot in the past and it is typical of a poorly maintained WordPress website where plug-ins (the website equivalent of 'apps' that add extra functions and features to a website) and themes are left to be updated automatically rather than regularly in the correct way. Neglecting a website like this can cause WordPress to fail (not that this was Bandshire's fault – they're crane and contact lifting specialists, not website experts!)
One of the benefits of WordPress is that several people can have Admin access privileges to the website, allowing them to make changes and updates to it. The downside of this is that it's tricky to tell who's doing what so it was hard to pinpoint what directly caused the previous website to break. In the end, we discovered it was easier to update the website on a new Bootstrap wire theme than to try and fix the old template theme.
WordPress is a platform that is well-known for being easy to use, making it the perfect choice for Bandshire. This is another reason why we decided to use WordPress for the development of their new website.
To fix the website access issue, we transferred the hosting of Bandshire's website from their existing server to our secure server. We back-up all of the client websites that are hosted on our servers every night so, in the rare event that something goes wrong, clients' websites can be seamlessly and efficiently restored with a recent version.
We also added an SSL (Secure Sockets Layer) certificate to the site, which provided the reassuring padlock symbol next to the website's address in the web browser search bar. Now an industry standard, not only does the SSL certificate make the Bandshire website safer, but it also increases their website visitors' confidence as they browse it.
Bandshire's situation highlights the importance of taking regular back-ups of your website (or having your website support company frequently back your website up on your behalf). This applies to monthly back-ups that are restored every month, not just to nightly back-ups, which are overwritten every 5 days. With monthly website back-ups saved, you can always enjoy peace of mind knowing that your website can be restored to a point where WordPress/the website was operating correctly.
Extras:
We provided a 1-to-1 WordPress Training Session to enable Bandshire staff to quickly and easily upload their own content and update the website's plug-ins when necessary using the intuitive Content Management System.
Get Your WordPress Website
Call us on 01484 290 100 to discuss a new WordPress website for your business.
---
Written on
December 23, 2019